Page 6 of 6
Honorable Mentions:
Don't be fooled by the name, this is no Cut the Rope clone. Using the accelerometer in your phone, you guide a flame upwards along the turning ropes in each level, in an attempt to complete each puzzle while burning off bugs in the process. Burn the Rope+ is fun, but at a steep price for what you get out of it.
Price: $2.98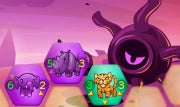 Everlands HD is a strategy game that has you placing hexagonal tiles on a board, each tile with an animal on it that has a different ability, with the goal of having the most tiles belonging to them at the end of the game. The story is cute, and the presentation is clean, but the puzzling tactics players use is surprisingly deep. No online multiplayer really hurts Everlands, however, as it would be well-suited for this title.
Price: $2.98

With OpenFeint online leaderboards, Halfbrick Studios added just enough replay value to Fruit Ninja's very simple gameplay style to make it continually relevant. As fruit is tossed in the air, players swipe across them to dice them into bits. Fruit Ninja stays addicting, and is worth mentioning for the well-polished design of the game alone.
Price: $2.98

Listed as a "galactic action-strategy game," Galcon has you drawing lines between planets of varying sizes to send a percentage of your fleet to another one to take that planet over. The key to threatening your opponent is dominating bigger planets, which leads to a larger fleet. Online battles offer small chunks of fun, and certainly adds to Galcon's replay value. It's an easy-to-learn yet tough-to-master strategy game, one we just had to mention here.
Price: $2.98

With a combination of touchscreen and tilt controls, MX Moto is great for gamers familiar with Trials, where you control a motorcyclist through side-scrolling courses riddled with hills, jumps, and obstacles. Leaderboards along with a few different modes add just enough replay value to be worth checking out.
Price: $2.98

This story, "The 15 Best Android Games" was originally published by GamePro.