The 15 Best iPad Games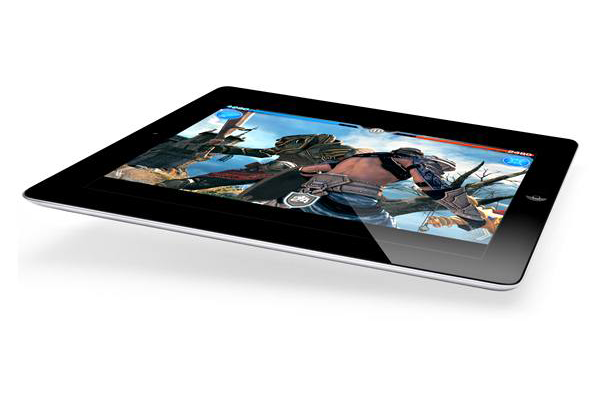 While the iPhone changed how people think about video games, the iPad changed the limits of what we thought iOS game could do. Not only do all of the iTunes apps enjoy an even larger touch screen, but the iPad's boost in processing power also helps make HD gaming possible on the way to work, school, or home. With that in mind, we've selected the 15 best iPad games that you can get from the App Store now.
Keeping in line with our iPhone list, we've to set a few ground rules down to keep the app selection manageable. One, no ports of console or PC games like Osmos or Plants vs. Zombies -- those iOS titles will be getting special treatment further down the road. Also, the GamePro editors took a small office poll to make sure that our Honorable Mentions included as many worthy games as possible. Did we miss one of your favorites? Let us know in the comments, and give your personal favorite iPad games some love.
15 | Mirror's Edge for iPad
It's a shame that the console version of Mirror's Edge never generated just enough in sales to warrant a sequel, but luckily, a follow-up does exist for the iPad. Rather than the sometimes motion-sickness-including first person perspective, this mobile version instead turns Faith's adventure into a much more traditional platformer. However, the trickiness of Faith's parkour-inspired move is much the same, as player have to carefully timing her wall runs, long jumps, and other aerial feats.
Why It's Better on iPad: Well, it's only available on the iPad. But aside from that, the graphics are stellar for an iOS game. Also, the larger screen lets you go head-to-head against a friend thanks to split-screen action.

14 | Fruit Ninja HD
Sure, Fruit Ninja has a concept that's equal parts ridiculous and self-explanatory, but the execution makes it an awesome pick-up-and-play app. Just like it says on the tin, you're essentially either racing the clock or playing target practice as you swipe the iPad screen to "slash" pieces of fruit right down the middle. Once you're done perfecting your stroke and collecting the different kinds of blades, you can go online and climb the constantly-shifting leaderboards, too.
Why It's Better on iPad: As far as we know, it's pretty easy to get into a chopping frenzy and suddenly drop your iPhone, but playing on the iPad is totally different. For one thing, setting it down on a table chop and pretending you're a DJ (or a Benihana chef) is pretty awesome. Plus, the larger the screen, the more accurately you can chop-chop.

13 | Forget-Me-Not
Although you can easily describe Forget-Me-Not a "Pac-Man with a Gun," the truth is that this game is a both a love letter and throwback to the old arcade games of the 1980s. From the sound effects to the graphics, Nyarlu Labs has crafted a retro experience that shows not every iOS game has to be a console mimicking HD project. In the game itself, you have to shoot everything that moves while collecting dots and fruits -- or, you can grind the maze walls and build up enough energy to body slam the ghosts outright.
Why It's Better on iPad: Forget-Me-Not is an experience best enjoyed with the "Fling" joystick on the large touchscreen. Just trust us. You'll love the game all the more.

12 | Real Racing 2
One of the most polished racing sims on the iPhone, Real Racing 2 builds upon the first installment with more cars, tracks, and races. Graphically, the game is stellar: races go by at a speedy framerate with realistic sound effects to boot. Control-wise, Real Racing 2 stays engaging by giving players the option to use the iPhone's accelerometer to steer your vehicle of choice (or, you can use easier control schemes to handle auto-acceleration or auto-braking in your car).
Aside from bumping up the vehicle count to 30 and including a deep career mode, Real Racing 2 also features substantial multiplayer challenges with offline time trials, 16-player online, and 8-player local matches -- plus global leaderboards.
Why It's Better on iPad: Steering your racing ride feels a lot more immersive with the larger screen, and since the iPad itself is bigger device than the iPhone or iPod, you might just feel like you're using an actual steering wheel.

11 | Contre Jour HD
An amazing physics-based puzzle platformer from Chillingo, Contre Jour stars the mysterious creature "Petit" as you poke, prod, and manipulate the environment around him to get the little critter from Point A to Point B. Sixty levels are packed into this atmospheric app, and over the course of time you'll spend with it, the eerie soundtrack will get stuck in your head. Hopefully, this inventive game will climb the rankings in our next round-up.
Why It's Better on iPad: All of the amazing artwork and level design just looks that much better in the HD version, as the textures and physics are given that extra coat of polish that the iPad's power provides.

10 | Rage HD
Rage HD was hotly anticipated upon its release, and we found its on-rails gameplay to be as equally awesome as its impressive visuals. The game's story has you as a contestant in a strange game show in which you must survive a gauntlet of angry mutants. It's a somewhat interesting setup, but in reality it just serves as an excuse to get you running through rooms while shooting as many dudes in the face as possible. The game is something of a tech demo for id Software's engine on the iPhone, but it also offers a decent enough chunk of shooting gallery gameplay to be worth its meager price point.
Once again, the iPhone 4 can give the graphics a little extra "oomph" due to the Retina Display and faster processor, so if you're not playing on iPad, the newest iPhone on hand is a solid substitute.
Why It's Better on iPad: Rage HD's graphics really benefit from the the iPad's superior hardware, and it's much, much easier to get a bead on enemies and target as you rail through the game.

9 | Flight Control HD
Flight Control was directly responsible for the creation of an entire genre of "line-drawing games" on the App Store, but it remains the best of its kind. Directing planes and helicopters to their landing is a great use of the touch screen, and the game gets incredibly frantic if you can make it far enough. It's easy to learn, but hard to master, as a constantly increasing number of incoming flights will have you juggling more than you might be able to handle.
Flight Controls has received continual support from developers Firemint post-launch -- a recent update has even added online multiplayer support and an online voice chat feature, making a somewhat older game new again for the millions who have purchased it.
Why It's Better on iPad: It's easy to get your finger flummoxed when trying to navigate a fleet of aircraft, but the wider screen gives you more room to chart courses. Plus, you can even use two hands if you're at a table or desk. Of course, you can also play Flight Control HD via split screen or tag-team modes, so feel free to share the app.

8 | Superbrothers: Sword & Sworcery EP
Point-and-click adventures aren't necessarily of the more popular genres among iOS games, but Superbrothers: Sword & Sworcery EP definitely makes an argument for giving them another look. A Sepia-toned tribute to games like The Legend of Zelda: A Link to the Past, Sworcery is filled with head-scratching puzzles that will test your most critical reasoning skills. As the mute female warrior The Scythian, figuring out these riddles is the key to saving your village -- which is fated to be destroyed.
Why It's Better on iPad: No other iOS game looks anything like this, and to truly appreciate this title's unique design, you've got to see and hear it on the iPad.

7 | Doodle Jump
Doodle Jump was the #1 best-selling iPhone game for the majority of 2009, and for good reason. It features a simple premise: keep hopping upwards to improve your score. The game's simple "keep on climbing" platforming gimmick and tight controls made it a huge hit, and spawned countless knockoff titles that developers spammed the App Store with. But what makes Doodle Jump unique is its distinguishable art style, various types of jumping boosts (springs, rockets, and more), plus a variety of different obstacles to dodge and navigate around. It's a mix that just works well, and developer Lima Sky just hit the right formula at the right time.
Why It's Better on iPad: Now that Doodle Jump is finally on iPad, you don't have to double up the pixel, so everything actually looks much sharper -- plus, you can see more of the game's world, which is always nice.

6 | Tiny Tower
Tiny Tower is the textbook definition of "time sink" -- spending a few seconds with this game can easily turn into a few minutes. As the landlord of a bustling urban skyscraper, it's your task to manage "Bitizens," shops, and job distribution as you try to earn enough money to increase the size of your tower. Part of the incentive is finding all the different types of shops in the game, and matching each Bitizen to their dream job -- by doing that, sales increase, more money rolls in, and you can build more floors in your Tiny Tower.
Be warned: Once you get past 15 floors, you could be checking your iPhone every minute to stock your Pub/Cyber Cafe/Coffee Shop/Laundromat/Night Club or move in a new Bitizen. For a free game, the features are quite robust, yet simple. Of course, if you want to speed things along, you can always buy virtual "Tower Bucks."
Why It's Better on iPad: Every shop and apartment has a bunch of little details cleverly built into the background -- so, if anything, it's cool to be able to scan your tower with the larger screen.

5 | Dead Space for iPad
One thing that Electronic Arts has done very well with the Dead Space franchise is porting the experience to systems with vastly different control schemes. On the iPhone, swiping and tapping gestures are the core gameplay element used to battle hordes of deadly Necromorphs, and they work incredibly well. Even the production values outclass many other iPhone games with 3D engines, as Dead Space retains the ominous lighting, speedy enemies, and eerie sound effects that made the original game such a frightening title.
If you're really a survivalist, you can also try the iOS version's "Nightmare" difficulty, which basically takes away your ability to recover health during levels. If you need practice, Dead Space's content also includes some neat extras like exclusive weapons and survival modes. Just make sure you have an iPhone 3GS or better to access everything the game can offer.
Why It's Better on iPad: Not only is Dead Space for iPad a better looking game, but the control scheme much friendlier to the wider screen space, which is helpful when a Necropmorph is trying to rip your face off.

4 | Cut The Rope HD
Cut the Rope has become just as much of a "Top 10" sales chart mainstay as Angry Birds, and it's no doubt due in part to its crisp, colorful graphics and charming lead character. In each level, you must figure out how to get a piece of candy from one side of the screen into the mouth of an adorable green critter named "Om Nom." Early in the game, you'll accomplish this by cutting ropes attached to the candy with a swipe of a finger, initiating a physics-powered puzzle that you'll have to use both planning and speed to solve.
Although it sounds simple enough, other elements like a gravity changer and collectible stars manage to keep things fresh, and add variety to an already fantastic puzzler.
Why It's Better on iPad: Accidental cuts and slow level scrolling is a much smaller issue on iPad, and the HD version boasts shiny, polished, vibrant visuals.

3 | Infinity Blade
Epic Games' Infinity Blade is the first real game to utilize Unreal Engine technology on a handheld, and it's easily the most impressive looking game available on the iPhone. It actually plays quite similarly to Nintendo's Punch-Out series, albeit with gorgeous animation and RPG elements like the ability to buy new weapons and armor for your fighter. Blocking, slashing, and dodging blows is the cornerstone of the gameplay, and as you die, opponents simply become more and more difficult to finish off.
It's unbelievable that Infinity Blade runs as well as it does on a mobile phone, and hopefully it's a sign of more to come from Epic Games and other ambitious developers.
Why It's Better on iPad: OK, you see those awesome graphics, right? It looks even better on the iPad. Heck, we'd even say that it rivals some console games, and for an iOS device, that's pretty darn impressive.

2 | Tiny Wings
A stellar example of minimalist video game design done right, Tiny Wings is a perfect storm of accessibility. One-touch gameplay that's easy to learn, but difficult to master; a charming, colorful palette that's constantly changing with each new game; and host to a seemingly endless array of diverse objectives that're always increasing in difficulty. There's a reason that German iOS dev Andreas Illinger's little-App-that-could has sold more than two million copies -– and we'll tell you what that reason is. Um, right after we wrap up this game.
Why It's Better on iPad: Watching your feathered friend soar through the sky is impressive on the iPhone and iPod, but seeing the skies really open up on iPad is a thrill.

1 Angry Birds Rio
Angry Birds Rio may be a shameless tie-in for the computer animated movie Rio, but that doesn't detract from the quality that developer Rovio put into the game at all. Consider this sequel/expansion a vastly more polished version of the original Angry Birds, as you try to free your exotic feathered friends from captivity in all-new levels and puzzles. Sure, there's no war with the Green Pigs here, but the gameplay will still have you replaying level after level as you try to bust the feathered mascots free of their cages.
With all the updates added so far, Angry Birds Rio brings over 130 new levels to your iPhone, so expect to get comfortable as you try to aim the furious fowl at just the right angles to rack up the highest scores you possibly can.
Why It's Better on iPad: Hey, with an iPad, you can see so much of the levels that you really don't need to zoom in. Aiming's a lot easier as a result. But more seriously, the new levels in this franchise-themed spin-off are just great to see on the iPad's high-definition screen.