Page 2 of 2
Walmart also has its own personalized gift recommendation service: Shopycat, which is built right into Facebook as an application.
Shopycat compiles a list of gift ideas that it thinks particular friends might like. When we first took a look at Shopycat, it pulled gifts from a number of services. Now, however, Shopycat sends you to Walmart.com for all of your purchases. Adding Shopycat to your Facebook profile will alert your friends that you're using the service through Facebook's ticker.
[RELATED: Shopycat: Walmart's Facebook App for Last-Minute Holiday Shopping]
Etsy Gift Finder

Shopping for the person who has everything? Try Etsy's Gift Finder.
Etsy is an online shopping site where members can sell hand-made goods--sort of an eBay for crafters. The main strength of Etsy's gift finder--which also scours people's Facebook profiles for relevant info--is the wide range of unexpected gifts you can find.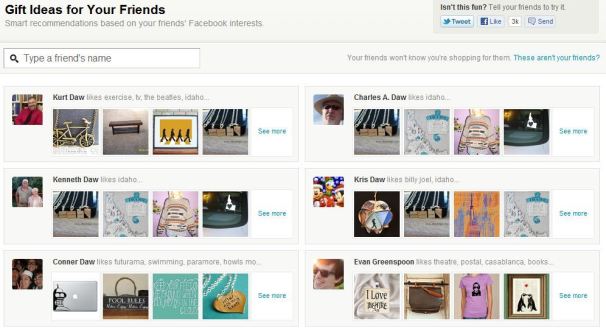 Your Buffy-obsessed friend may have the entire show on VHS, DVD, and Blu-ray, but I bet they don't have a tiny handmade Buffy coffin.
Turn It On Yourself
If you get sick of shopping for your friends, turn these services loose on your own Facebook profile to see how your activity translates into gift ideas. Both Shopycat and GiveEmThis offer the option of seeing your own gift recommendations.
This can be pretty instructive, as you'll discover that while these services can throw a lot of gift ideas your way, few are particularly inspired or original. The Amazon app gets around this by listing things your friends have explicitly asked for, and Etsy has some original suggestions by virtue of sheer strangeness. But most of these tools will deliver what you expect: books about places you've visited, sports paraphernalia for your favorite teams, and DVDs for TV shows and movies you've already seen.
Still, you may find a few gems. That remote-control pillow on my list looked pretty enticing, especially when paired with a gift bag of beef jerky and Sherlock: Season One.
Connect with Ian Paul (@ianpaul ) and Today@PCWorld on Twitter for the latest tech news and analysis.
Additional Reporting by David Daw.