Red Roof Inns (4.34 Mbps)
Sleep Inn (4.14 Mbps)
Ramada (3.69 Mbps)
Holiday Inn (3.68 Mbps)
Best Western (3.66 Mbps)
Aloft Hotels (3.42 Mbps)
Studio 6 (3.22 Mbps)
Hilton (3.17 Mbps)
Quality Inns (3.15 Mbps)
Four Points by Sheraton (3.04 Mbps)
Comfort Inn (2.99 Mbps)
Candlewood Suites (2.69 Mbps)
Radisson (2.43 Mbps)
Clarion (2.42 Mbps)
Doubletree Hotel (2.32 Mbps)
If you're specifically looking for hotels, it's also worth bookmarking two other sites: Hotel Wi-Fi Test and SpeedSpot. The former pairs with an app that crowdsources the bandwidth available at various locations. Both, however, allow you to search by city for hotels with speedy Wi-Fi connections. SpeedSpot also can connect you to Hotels.com to complete your booking, assuming that the speed of the available Wi-Fi is the gating factor, and not price, availability, or any other concern.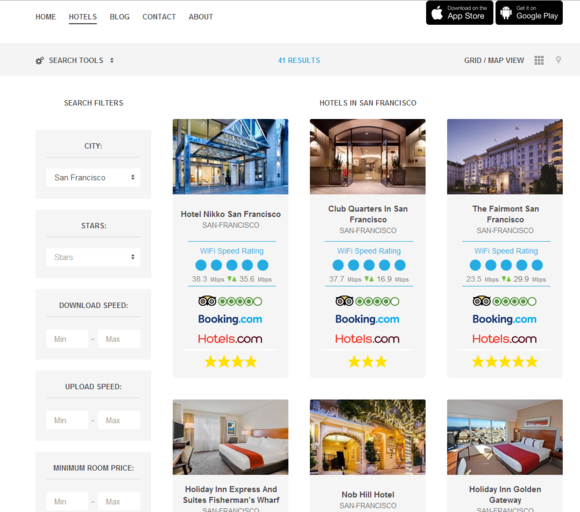 Beaches, airports, even coffee shops
Wefi even searched out which airports and beaches offer the fastest Wi-Fi connections. (Yes, even beaches offer Wi-Fi, most commonly either via muncipal connections or nearby free hotspots offered by hotels or other providers.)
Denver International Airport, a popular hub for both United and Southwest, offers the second-best Wi-Fi throughput at 4.33 Mbps. But it's Detroit Metropolitan Airport, home to Spirit Airlines and a major hub for Delta, which provides the fastest Wi-Fi experience for travelers: 4.63 Mbps. Here's the complete list of the top 10 airports with the fastest Wi-Fi: