Whenever Google updates one of its Android apps, enthusiasts like to tear it apart to discover any hidden features.
Android Police's Artem Russakovskii certainly discovered the unexpected when investigating the latest version of YouTube for Android. Someone at Google thought to hide a link to the infamous Rickroll video inside a string of code for version 5.9.0.10.
Yes, Google made a point of Rickrolling Android enthusiasts. Glorious. Even more amazing, the Google Developers Google+ account left a taunting message on Russakovskii's post about the find.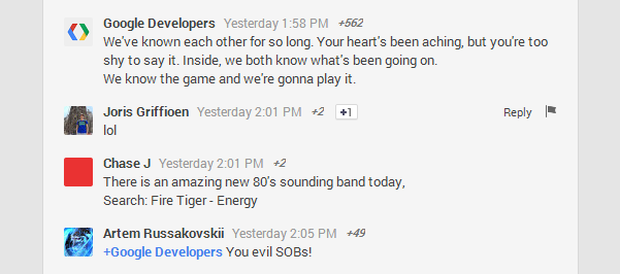 To create the deception, the code (<string name="music_pass_onboarding_tutorial_uri"> https://www.youtube.com/watch?v=dQw4w9WgXcQ</string>) appeared to indicate some kind of new music service, which has been rumored for some time. Instead, the YouTube link is to one of the many uploads of the very 1980s pop hit.
The Rickroll meme, whereby people are tricked into watching Rick Astley's 1987 video to Never Gonna Give You Up, was at the height of its popularity about six years ago. Astley even performed a live rickroll during the 2008 Macy's Thanksgiving Parade, occasionally interrupting (and improving) a performance of "Best Friend" by Foster's Home for Imaginary Friends. The phenomenon gave Astley somewhat of a career revival, as he continues to tour and release new songs.
This story, "Google Rickrolls Android enthusiasts in YouTube app update" was originally published by Greenbot.