Android's dominant market share is paying off in another area: mobile web traffic.
According to a report from Net Marketshare, mobile devices powered by Android accounted for a larger share of browser usage than iPhones and iPads in July. The analytics company tracks usage data for operating systems, browsers, search engines, and other technologies.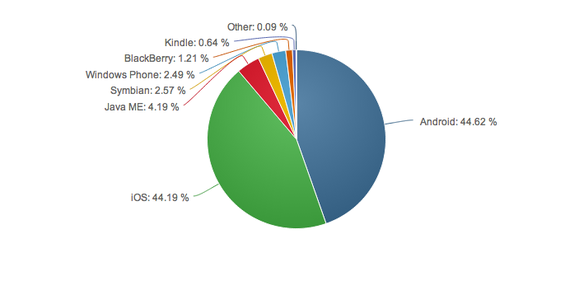 The edge was less than half a percentage point: iOS web usage in July was 44.19 percent while Android devices reported 44.62 percent. This marks the first time Google's mobile OS has surpassed Apple's in total worldwide mobile web usage, but it's only one report from one company.
However, the data was nearly a full percentage point jump from June, when Android accounted for 43.75 percent of Internet traffic.
The gain for Android was higher when the data was compared with the numbers from the beginning of the year, with such phones and tablets accounting for only 39 percent of traffic.
This story, "Report: Android finally surpasses iOS in web traffic" was originally published by Greenbot.