Ladies, you want dibs on the excellent OnePlus One? The company wants to offer you a chance to jump to the front of the line for a One invite. All you have to do is objectify yourself by smiling pretty for the camera and hoping your picture accrues more likes than the other girls.
Despite the numerous positive reviews of the OnePlus One, the company behind it still isn't doing much to remain in consumers' favor. For starters, OnePlus has consistently under-delivered since the One's launch in June, shipping updates late and increasing production far too slowly to meet demand. The company's latest marketing tactic is extremely uncouth—not to mention downright misogynist—and I wouldn't be surprised if this sets the company back a significant amount.

OnePlus's latest campaign is called "Ladies First." It wants the Android-using women interested in purchasing the phone to post a photo of themselves with the OnePlus logo to the official forums. The 50 most "well-liked ladies" will receive an invite to buy the underproduced One, as well as a free t-shirt. "OnePlus wants to give a shout out to the few but beautiful female fans in our community with our Ladies First contest," the company wrote in the forum post. Unfortunately, it's only breeding comments like the following (all taken verbatim from the forum thread and unedited):
WTF.. I am pressing F5 (refresh) like crazy and still no ladies posting !! where are thou ???
and...
We all know the ladies only go first so that the men can stare at their....er...I mean because we are genlemen
Some of the commenters then took it upon themselves to post photos of the type of scantily-clad gals they're hoping to see. There were several pictures of girls in their underwear with Photoshopped logos of the OnePlus One scattered throughout the thread, though thankfully the girls themselves who have taken the contest seriously kept it PG-rated. And there's this gem: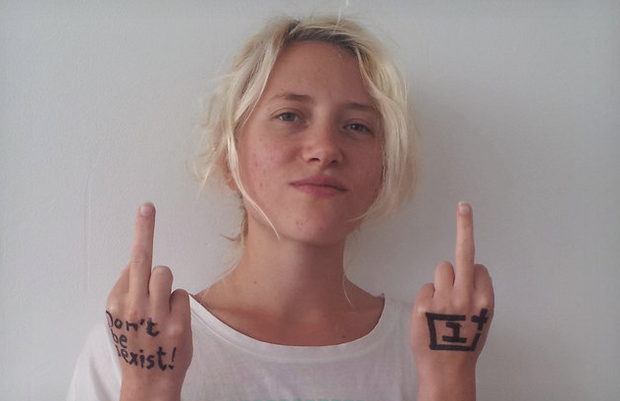 Fortunately, there are a few women pushing back against this ridiculous marketing campaign, though this is still an extremely low blow. In a world where women are constantly battling for things like equal pay and reproductive rights, and who are often antagonized for attempting to initiate change in the male-dominated gaming and technology industries, someone in OnePlus's team of marketing executives actually decided that this would be the best way to garner appeal for its indie smartphone. The company should have instead focused its efforts on actually producing the devices to meet the demand for a phone it swore would dethrone all the other Android manufacturers out there.
As a woman who covers technology for a living, and one who reviewed the OnePlus One and gave it high remarks (like I said, it is a great phone), I'm baffled by all of this. Asking women to effectively "pimp" themselves out is absolutely never okay, and it perpetuates antiquated ideals, like that women exist for men to gawk at. Like Samsung's sexist faux pas at last year's Galaxy S4 unveiling, I wouldn't be surprised if this soils OnePlus's reputation for a while, along with the fact that it just can't seem to get it together to meet the demand for its "flagship killer."
Thankfully, the Cyanogen team, the developers behind the forked Android software that comes standard with the One, are not thrilled with the ploy. I reached out to Steve Kondik, the CEO of Cyanogen, and he assured me that the company had nothing to do with this particular marketing campaign:
Of course we had nothing to do with this absolute and complete fail. While we love the product, this kind of marketing steps over the line. Maybe its a symptom of cultural differences, but it's pretty clueless if you ask me. We will make an official statement shortly.
Immediately afterwards, Cyanogen posted the following statement on Twitter:
We value all of our users and do not support any contest that objectifies people

— Cyanogen Inc. (@CyanogenInc) August 12, 2014
Update 12:35 PM PST: OnePlus pulled the campaign and deleted the "Ladies First" forum altogether. The remnants of the campaign live on through cached webpages. The forum admin, Carl Pei, posted the following:
Women make up half the world, and we want to help them be more involved in tech. We understand that our contest was in bad taste, and have therefore pulled it. All participants will be contacted for prizes.

We apologize and we will course correct for the future. At the same time, we would love to hear your feedback on how we can better get women involved in tech.
Our humble advice for how to get more women involved in tech? You can start by hiring some.
This story, "OnePlus decides the best way to sell its phone is to ask women to degrade themselves" was originally published by Greenbot.