University of Notre Dame Researchers Develop Solar Cell Paint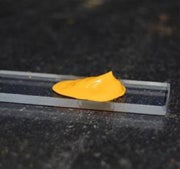 Someday, adding solar power to your home could be as easy as applying a coat of paint, instead of having to install bulky and expensive solar panels to your roof. University of Notre Dame researchers figured out a way to create an inexpensive, energy generating "solar paint" they call "Sun-Believable." (No really; that's what it's called!)
This latest feat in solar energy came when the scientists found a way to incorporate power-producing nanoparticles called quantum dots into a spreadable paste. The paste is mixture of titanium dioxide nanoparticles, followed by a coating of either cadmium sulfide or cadmium, along with a water-alcohol suspension.
In order to create an energy-producing cell, the paint is spread onto a transparent conductive material, and then annealed with a heat gun. The painted electrode surface is then jointed to a graphene composite electrode with an electrolyte solution.
The resulting material generates energy when exposed to a beam of artificial sunlight. So far, the solar paint has only yielded, at best, a one-percent light-to-energy conversion efficiency, so it's not quite ready to take over for commercial solar cells that usually run at 10- to 15-percent efficiency.
The scientists say, however, that the paint can be cheaply made into large quantities. If the researchers manage to improve its efficiency, every home in the future might be coated with solar power.
[University of Notre Dame via PhysOrg and Engadget]
Like this? You might also enjoy…
Get more GeekTech: Twitter - Facebook - RSS | Tip us off

Amazon Shop buttons are programmatically attached to all reviews, regardless of products' final review scores. Our parent company, IDG, receives advertisement revenue for shopping activity generated by the links. Because the buttons are attached programmatically, they should not be interpreted as editorial endorsements.