Brother MFC-J625DW Review: Low-Cost, High-Performance MFP
Brother MFC-J825DW Multifunction Printer

$265.00 (Check Prices)

via Amazon Marketplace

Amazon Shop buttons are programmatically attached to all reviews, regardless of products' final review scores. Our parent company, IDG, receives advertisement revenue for shopping activity generated by the links. Because the buttons are attached programmatically, they should not be interpreted as editorial endorsements.

Very small offices or home offices will like the MFC-J625DW's swift speed, duplex printing, and two-year warranty, but paper handling is limited.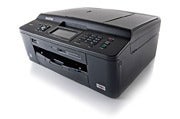 At $130, the Brother MFC-J625DW color inkjet multifunction printer (print/copy/scan/fax) is a surprisingly good deal for a home or for a very small, low-volume office. It's one of the cheapest color inkjet MFPs we've run across that features automatic duplex (two-sided) printing, which saves a lot of paper and money over the long haul. Other nice surprises include extraordinary speed for the price, and a two-year warranty.
The MFC-J625DW is easy to set up, via either USB or Wi-Fi. On the PC, setup is a simple matter of clicking through the dialog boxes. On the Mac side, check your installation CD: If it has the 4.1.4 version of the driver, as our evaluation unit did, the Scan button will not show up in the Mac's System Preferences\Print & Fax dialog box. Downloading the 4.1.5 version will solve the problem. If you have already installed the older driver, you will need to install the new driver, and then delete and re-add the printer.
Brother includes PaperPort 12 LE on the PC, and Presto PageManager on the Mac, for scanning, document management, and OCR. The Brother Control Center handles the rest of the tasks, including offloading photos from USB, SD Card, and Memory Stick storage inserted into the front-panel PictBridge and memory-card slots.
The paper-handling features on the MFC-J625DW are adequate for low-volume use. We're glad to see the automatic two-sided printing (duplexing), a feature that's missing from this model's recently reviewed cousin, the bargain-priced Brother MFC-J430w; the function is even supported in both the PC and Mac drivers. The input tray holds 100 sheets, and the MFP also has a 20-sheet photo bypass tray. The automatic document feeder for the A4-size scanner holds 20 sheets. The scanner will scan one-sided to two-sided, but not two-sided to two-sided.
In tests, the print speeds for the MFC-J625DW weren't what we usually expect to see from a $130 printer--they were much faster. The unit pumped out text pages at 8.9 pages per minute on the PC, and at a stunning 9.7 ppm on the Mac. Color graphics printed to plain paper were impressively fast at nearly 4.7 ppm, and scans and copies proceeded at a similarly brisk pace. Speed dropped to normal when we printed color graphics to Brother's glossy photo paper, at a rate of about 1.2 ppm.
The quality of the MFC-J625DW's output is more typical for an inkjet. On plain paper, text looks sharp, if more charcoal than true black. Graphics, however, appear washed out, most noticeably in photos and color copies. Color photos on glossy paper are outstandingly bright and vibrant, though fine details aren't always as distinct as they could be. Color and monochrome scans can be rough or dark.
Ink prices for the MFC-J625DW are decent with the standard-size cartridges, and better with the higher-yield tanks. The standard $15, 300-page black is 5 cents per page, with the $10, 300-page cyan, magenta, and yellow coming out to 3 cents per page; that's 14.7 cents per page for a four-color printout. With the 600-page XL cartridges, black pages are 4.2 cents per page and a four-color page is 11.7 cents per page--a mere 0.1 cents more than the average for large-capacity ink cartridges.
If your printing and scanning needs are modest, the Brother MFC-J625DW is an affordable way to handle them. Everything it does, it does well, though the lack of duplex scanning will make scanning long two-sided documents tedious.