Page 2 of 2
The following is a list of some capture domain name types: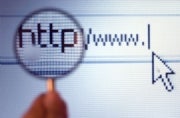 Internet users often shortcut their path to a company's site by typing an abbreviated name into the address bar. Expecting this, many companies nab those addresses. For example, Barnes and Noble owns www.BN.com which automatically takes you to their primary name www.BarnesandNoble.com while www.MS.com takes you to www.MorganStanley.com. Others use it in reverse; General Motors has www.GeneralMotors.com which automatically takes you to www.GM.com, and www.GeneralElectric.com takes you to www.GE.com. Lingerie company Victoria's Secret owns www.VictoriasSecret.com but although they use the abbreviation "VS" with their web site menu item "VS All Access" and product offerings such as "VS Makeup" and "VS Fantasies", the company seems to have missed out on www.VS.com which takes you to someone's adult site.
To capture searchers who may not know your company or its name, key words are particularly valuable. This is because people have adopted the habit of typing words into the address bar and sticking a .com on (or other extension) and seeing what comes up. Type in www.Shoes.com and you get a site owned by a subsidiary of The Brown Shoe Company, Inc. They may be an old company that has been making and selling shoes for over 130 years, but they are very modern in their development of a domain name portfolio having a host of names including www.BrownShoe.com. However, it appears someone else nabbed the singular www.shoe.com.
So, while many such key words are taken, try combining key words with other key words or with your company name.
Geo domains are the actual names of geographic places such as countries, states, and cities, such as England.com, California.com, and Tokyo.com respectively (Note that these do not include geographic subdomains such as .uk, .us, or .jp.) Such names are typically expensive. England.com sold for $2 million in 1999 and Branson.com (a city in Missouri) sold for $1.6 million in 2006.
But the new ICANN rules offer an opportunity to create completely new domains. And you can always combine the geographic name with a keyword or a company name, as Bice's Florist did when they acquired FortWorthFlowers.com and Lovering Volvo in Nashua, N.H., did when it acquired LoveringNashua.com. Just last month VisitCuba.com sold for $100,000.
To locate available geodomain names, try Go Daddy's very cool geo domain search feature at http://geo.godaddy.com/ or check Sedo.com's listing of available geo names at http://sedo.com/us/sedo/sedocomgeo/ where you can buy Sweden.com for $1 million.
Misspellings & Fat Fingers
One of the classic ways to end up in the wrong place on the Internet is to misspell or even to "fat-finger" the address. For example, www.llbean.com takes you to a well laid out site for L. L. Bean, the world-popular outdoor outfitter, but variants like www.llbeane.com take you to a page promoting links for Sears, Northface, Columbia, and Nautica while www.bean.com shows you links for companies ranging from JC Penney, Ann Taylor, Macy's, Lands' End and, yes, even L.L. Bean (the registrants for each name appear to be in Hong Kong...a long way from L.L. Bean's home in Freeport, Maine ). Hitting the wrong key such as www.llbeab.com takes you to yet another site full of links to purchase products...but not L.L. Bean's site (the registrant's name appears hidden ).
Defensive Domain Names
There are different reasons to include defensive domain names in your portfolio. Typical examples include outsiders trying to cash in on your brand and those out to foster a negative image of your company. A quick Google search using "iPad" and keyword "accessories" returned a list with Apple Computer in positions one and two and iPadAccessories.com (which does not appear to be owned by Apple) in third place. While not necessarily negative, the site which sells accessories for the iPad clearly gains from the inclusion of "iPad" in its name. On the negative front, Bank of America missed out on www.BankofAmericaSucks.com which is too bad because it is an active Internet site for complaints about the bank. They did, however, grab www.BofASucks.com which they have left blank.
Maintaining a Domain Name Portfolio
Maintenance of your domain name portfolio is also critical. The most important aspect is simply not letting valued names expire. Another key point is to monitor the stats and cull the dead wood.
Adelman says, "The single most important thing is making sure that you've got a handle on renewals. Even some very large companies over time have let a domain name expire and have had to scramble to get it back."
Microsoft ran into a problem when it let its UK Hotmail domain name expire in 2003. Fortunately for them, a savvy soul picked up the name the day it went public and offered it back to the company as a kind gesture. For some reason, the company ignored his entreaty.
After two weeks, The Register reported the story in an article titled "Microsoft forgets to renew Hotmail.co.uk domain". As the article stated, "Microsoft only took notice when The Register contacted the company yesterday afternoon to enquire why its hotmail.co.uk site was registered to a private individual." Eventually someone at Microsoft woke up, realized what had happened, and retrieved the domain name from the then frustrated doer-of-good-deeds.
So, as Adelman continues: "Whether your portfolio contains the two names that are critical to your business or a portfolio of a thousand make sure you've got someone to make sure these things are all set to renew automatically and have a valid credit card assigned to the account...otherwise that's when you get into real trouble."
Just as you should cull an investment portfolio for unproductive stocks, domain names that do not capture traffic or serve another function should be dropped. Let's face it, even at annual registrations near $10 per year, this can add up for those with a lot of names.
As Johnston says, "It should never be a set-it-and-forget-it strategy. Be sure that all names set to redirect to your primary (or other) web site are working properly and that people are actually using those names. At Sedo we have a team that works on it year-round. It is a mixture of network people, legal people, and marketing people who are all part of a task force. They are constantly checking to see that domains are pointing to the right pages and that the statistics show people are actually going there. This enables us to cull nonproductive names thus ensuring our portfolio is always working for us."
Final Thoughts
IT execs in charge of their company's domain strategy should locate available names that will increase traffic to your site or that protect your brand from abuse. For those that will generate traffic, check the statistics both before and after adding them to your portfolio. Drop names that are unproductive either by not generating traffic or by generating traffic that does not later translate into profitable sales.
Smith is president of Alexander LAN Inc., a freelance consultant and writer in IT. He can be reached at DirkADSmith@gmail.com.
Read more about lan and wan in Network World's LAN & WAN section.
This story, "How to Profit From New Domain Name Rules" was originally published by Network World.