Page 2 of 2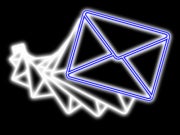 But they came back.
Was the computer haunted? Apparently not, I was able to replicate this on another XP SP3 machine where Outlook Express had also been (supposedly) un-installed. Go figure.
The Nirsoft website includes an article, Password Storage Locations For Popular Windows Applications, that details where both Outlook and Outlook Express store their passwords. Outlook Express passwords are stored in a section of the Registry known as Protected Storage located at
HKEY_CURRENT_USER\Software\Microsoft\
Protected Storage System Provider
After making a Restore Point, I deleted all the subkeys under "Protected Storage System Provider." Mail PassView still saw all three accounts, but it no longer found the passwords.
But that's not sufficient for Defensive Computing. I wanted no trace of these email accounts left behind.
The Nirsoft article also said that Outlook 2003 stores passwords in the Registry at

HKEY_CURRENT_USER\Software\Microsoft\
Windows NT\CurrentVersion\Windows Messaging Subsystem\
Profiles\[Profile Name]\
9375CFF0413111d3B88A00104B2A6676\
[Account Index]
Removing the subkeys to this, finally got rid of the Outlook 2003 email accounts. But, the Outlook Express account still showed up in Mail PassView.
I tried the Revo Uninstaller looking for "Outlook Express". Again, I deleted Registry entries and files to no avail, the email profile (email address, POP3 server name and POP3 server userid) was still visible to Mail PassView.
After making another Restore Point, I turned to Microsoft Knowledge Base article KB209169, How to create and use identities in Outlook Express 5.x and 6.0, which said that identity information is stored in the Registry at
HKEY_CURRENT_USER\Identities\account_ID
I deleted all the subkeys under "Identities" but still, Mail PassView was able to find the Outlook Express email account.
Finally, I turned to another Microsoft Knowledge Base article (KB188093),How to Back Up the Account List in Outlook Express, which offered advice on backing up Outlook Express accounts. It said that you could backup the list of accounts and their configuration information by exporting this registry key:
HKEY_CURRENT_USER\Software\Microsoft\
Internet Account Manager\Accounts
I found five subkeys under "Accounts". The first one was called "00000001" and seemed to be the Outlook Express email profile. I removed the entire 00000001 subkey and finally, got a clean bill of health from Mail PassView, which reported no traces of email.
Needless to say, webmail is looking much better about now. Score one for the cloud.
This story, "How to Scrub Email Out of a Windows Computer" was originally published by Computerworld.