Facebook to Verify Accounts, Allow Use of Nicknames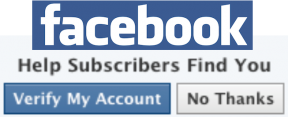 In a move against Twitter, and perhaps Google+, Facebook will begin verifying the accounts of celebrities and other public figures. Once an account is verified, the user will be able to use an "alternative name" or nickname as their Facebook name, and will appear more often in lists of "People to Subscribe To."
Facebook will immediately begin verifying accounts, starting with users who have "many subscribers," according to TechCrunch. The verification process will be similar to Twitter's: you cannot volunteer yourself to be verified; you have to be chosen by Facebook's team.
In order to verify an account, users will have to submit an image of a government-issued photo ID. According to Mashable, users can also submit two forms of alternate IDs (such as credit cards and birth certificates) instead of a government-issued photo ID. Facebook says the IDs will be deleted after an account is verified.
Once an account is verified, the user will be able to enter an "alternative name," or nickname that can either be displayed next to their real name on their Facebook account, or displayed in lieu of their real name. Facebook will manually verify and approve stage names of verified users.
Celebrities who are known by stage names include Lady Gaga, Snoop Dogg, Katy Perry, and 50 Cent. Under the new system, Lady Gaga will be able to display her name as either "Stefani Germanotta (Lady Gaga)" or "Lady Gaga." Likewise, Snoop Dogg will be either "Calvin Broadus (Snoop Dogg)" or "Snoop Dogg."

Verified Facebook users will also gain a more prominent place in "People to Subscribe To" lists. Facebook introduced the "Subscribe" feature last September as a way for users to "follow" people they are interested in -- such as celebrities, journalists, and other public figures -- without having to be their Facebook friend.
Facebook's new verification system seems to be a move against both Twitter -- which has had verified accounts since 2009 -- and Google+, which currently does not really allow people to use alternate names. Unlike Twitter's and Google's verification systems, Facebook's system will not come with a little badge that shows an account is verified.
Anyway, it looks like Facebook's verification system will not affect regular people anytime soon. But perhaps it will cut down on the number of Facebook imposters, so we can all follow the real Snoop Dogg.

Amazon Shop buttons are programmatically attached to all reviews, regardless of products' final review scores. Our parent company, IDG, receives advertisement revenue for shopping activity generated by the links. Because the buttons are attached programmatically, they should not be interpreted as editorial endorsements.