Scheduling Services Showdown: Schedulicity vs. Genbook vs. Appointy
Page 2 of 3
Genbook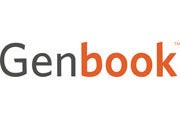 Genbook debuted in 2008 and now serves more than 5000 small businesses in North America. More than 11 million appointments have been booked via Genbook, with hundreds of thousands of new ones added each month.
Signup and Setup
Getting started with Genbook was quick, though not as visually pleasing or easy as with Schedulicity. The management end can be more difficult to work with, but the customer-facing booking process looks professional.
Genbook walked me through the basics of receiving appointments, including setting up staff and services, identifying business details, and listing operating hours, but it skipped some of the setup options.
One default option along the way is Genbook Promote, a service that publishes your business information to partner sites such as local guides and search engines. This feature is free as part of the trial, but it costs an extra $15 per month for solo users and $25 per month for standard subscribers. I'm not a fan of being opted in to things that cost extra.
Calendar Management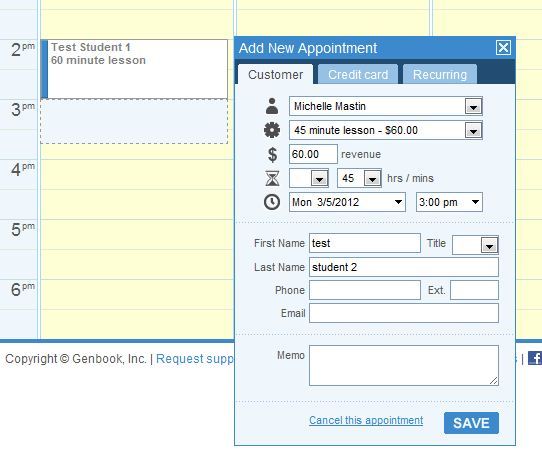 Starting a new appointment from the business page would be easy if you could do it by simply clicking a time slot; but rolling over a time slot creates an overlay with Block, Offline, and Away buttons that cover most of the clickable area--which misled me into accidentally setting myself as offline.
When you get to the pop-up for creating a new booking, selecting a service from the drop-down menu will trigger the program to fill in most of the other fields. Though there's no indication that you can search your existing client list, typing a name in the client name box does launch a search. If you choose a preexisting client, the remaining fields will fill in automatically.
The new appointment pop-up also lets you add credit-card information and set up options for recurring appointments. The ability to associate credit-card information is a great feature if you want to charge fees for no-shows. Another possibility is to require individual clients to provide their credit-card information in order to confirm when they book online.
Client Management
Genbook will import a client list from Web email accounts such as Gmail, Yahoo, and Hotmail, or from email applications like Outlook or Apple Mail. You can also upload a contacts file from Outlook, Windows Address Book, or LinkedIn, but when I tried to upload the spreadsheet I already had, the operation yielded a list of email addresses with no names.
Adding new customers through the management interface is straightforward. You can choose whether to permit customers to book freely online, to book online if they supply a credit card number, or to book only by phoning for an appointment. You can also leave notes about particular clients and see a list of services or appointments they have booked.
Unless you opt out of the feature, Genbook will send clients a request to leave a review at the end of their service. You can view and manage the resulting reviews, choosing which to publish and which to hide.
Marketing and Analytics
Genbook provides a Book Now button for your website and a tab for your Facebook page. You can also send mass email invitations to clients to book online. Genbook doesn't have tools for offering promotions or discounts.
An analytics tools shows revenue and appointments, sorted by service or by staff member. This can help you identify sales trends, forecast future performance, and see which employees and services are doing well. Staff members won't see the analytics tab when they log in to manage their own schedules.
Price: $20 per month for a single user; $40 per month for an unlimited number of staff members; 30-day free trial
Pros: Can store credit-card information to enforce cancellation and no-show policies; powerful analytics
Cons: Confusing interface; no promotional tools
Bottom Line: Genbook lets customers book online while protecting your business from no-shows and fake appointments, but there's no way to manage deals or promotions. Its strong analytics tools can help you stay on top of what's working well for your business and what isn't.
Next Page: Appointy and conclusions
Shop Tech Products at Amazon