Scheduling Services Showdown: Schedulicity vs. Genbook vs. Appointy
Page 3 of 3
Appointy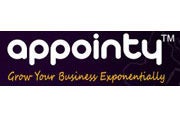 Appointy stands out from the crowd by covering basic online booking at no cost. Higher tiers of service that include more-advanced features are available at rates ranging from $10 to $40 per month. Appointy launched in 2007 and now supports more than 21,000 customers in 78 countries. In 2011, 1 million users booked more than 3 million appointments through Appointy.
Signup and Setup
Appointy's setup process was similar to that of the other services, but Appointy includes a tags section for SEO purposes. It also lets you provide much more information about your staff, such as education and languages spoken, so that clients can choose the right person to work with. I found that setting business hours in Appointy was easier than in any competing service.
Another great option: Appointy lets you accept--or require--prepayment through PayPal or Authorize.Net. This feature enables you to require deposits or to accept prepayments without having to store credit-card information.
Calendar Management
The intuitive calendar interface offers daily, monthly, and agenda views. A dashboard view shows reports on performance, appointments, and marketing.
When booking a new appointment, you can select from existing clients or add a new one. You can also create recurring appointments, and Appointy is the only service here that allows clients to set up their own recurring appointments, showing dates available for the selected time slot. Clients can enter coupon codes and choose to pay later, or they can pay up-front with PayPal. Appointy displays your cancellations policy to the client along with the booking confirmation.
You can use two-way sync to link your Appointy calendar with Google Calendar.
Client Management
Appointy will maintain a basic list of your clients and their contact information, but it doesn't provide a way to import your current list. Customers can submit reviews and you can choose whether the reviews will display their name or appear anonymously.
Promotions and Reports
Like the other two services, Appointy provides a scheduling widget for your website and a link for your Facebook page. You can post updates to Facebook and Twitter, or you can send customers an email message to let them know that they can book their appointments online.
Another option is to create discount coupons and offers for clients to use when they sign up for services. There's no way to restrict how many discounted appointments clients can schedule on a given day, but you can limit coupons to a single use or a first appointment.
Price: Free basic plan; $10 per month for Plus plan (adds Google Calendar linking); $20 per month for Pro plan (adds customizations, analysis, prepayments, and recurring bookings); $40 per month for Business plan (adds separate staff logins); 14-day free trial of Business plan
Pros: Free option; prepayments; very customizable
Cons: Promotional bookings can't be restricted to a certain number per day; no client list import
Bottom Line: It's hard to beat free--but the great customization options, the capability to take prepayments via Paypal, and the various promotional tools make the paid tiers of service worth the extra expense.
Conclusion
Though any of these services will provide your clients with an easy way to book their own appointments online, each has its own unique capabilities. For businesses that like to offer deals but want to keep them under control, Schedulicity is a great match. Businesses that need the security of having a credit card on file will appreciate that Genbook has that feature built in. If you want to be able to accept deposits and to offer discounts, check out Appointy.
Overall, I rate Schedulicity as the most convenient and most robust service for businesses that don't mind tracking payments separately.
Shop Tech Products at Amazon