Replacing an SSD Under Warranty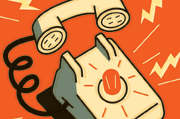 I bought a 240GB OCZ RevoDrive 2 solid-state drive from Newegg.com a few months ago, and one day it just decided to quit working. I realized that the product was beyond the return date for Newegg, but wasn't really worried, since I knew that it had a good warranty from OCZ. I contacted OCZ for authorization to return the SSD, and shipped it back. A month went by and I still hadn't heard from the company, so I called; an OCZ representative told me that the item was out of stock. So I waited another week and called again--a different rep said that they had plenty of SSDs in stock, and the rep didn't know why one wasn't shipped to me. He said he would send one right out. I called back two days later for a tracking number, and the same rep told me that they had not shipped anything yet, and that he wasn't sure when OCZ would be able to. He also refused to agree to email me a tracking number when the replacement finally did ship. At this point I don't know what else to do.
­--Loren Fowler, Fishers Landing, New York
On Your Side responds: We contacted OCZ to find out what had happened to the replacement solid-state drive that the company should have sent. The very next day, OCZ's returns manager sent an email message to Fowler explaining that the drive had likely been out of stock at first, but that a breakdown in communication between the return-authorization department and shipping had caused the additional delays. The manager said he would take action immediately to fix the departmental communication issues, and provided a tracking number for the replacement SSD. Fowler had a replacement drive in hand the next business day--one day ahead of the shipping estimate.
Replacement Alert for Apple First-Generation iPod Nanos
Apple has finally determined that the batteries in some first-generation iPod Nanos (sold between September 2005 and December 2006) may overheat and pose a safety risk. These early Nanos contain lithium ion batteries that have a history of overheating and catching fire, notably in a 2007 case in Atlanta, where an iPod Nano caught fire in a man's pocket. Apple recommends that owners of first-generation iPod Nanos stop using the devices and order a replacement via its Web form.
Initially, materials for shipping the players back had been slow to arrive, but the speed of replacements is picking up. Apple is shipping sixth-generation Nanos, accompanied by a 90-day warranty, as replacements.
Have you run into a problem involving customer service, a warranty, a rebate, or the like for your tech gear? Email us at onyourside@pcworld.com.