Page 2 of 2
Consumerization Step 4: Tap Into Your Employee Base for App Ideas
For application development and deployment and the kinds of apps employees are allowed to use, many organizations are trying to catch up with the consumer marketplace, says X by 2 consultant Petersmark.
Most new employees enter an organization with a more capable set of productivity and networking tools, not just devices, than supplied by their new employer, Petersmark says. It's problematic at best and catastrophic at worst from a talent recruiting and retention perspective "if the best and the brightest decide that their new employer's infrastructure and application portfolio is far inferior to what they already have in their pockets," he says.
Forward-thinking companies are trying to embrace those in their organization who tend to push the boundaries on the consumerization front. Rather than considering those people to be troublemakers, Petersmark advocates that you bring them into the planning and deployment process and ask them why they use the devices, services, and apps that they do, how they use them, what benefits they derive, and so on.
Consider creating a small team of the more cutting-edge employees and ask them to help re-create some of the core application functions the company uses in the form of more consumer-friendly technologies, Petersmark says.
Consumerization Step 5: Get Over Security Skittishness Around BYOD
Most organizations historically denied network and data access to anything that was not company-issued. But that doesn't work in a consumerization context. Thus, companies are increasingly creating secure access points via virtualization or cloud services that allow employees to safely access company resources with their own devices.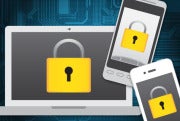 If done correctly, this tactic can yield several benefits, Petersmark says, including allowing employees to be more productive and maybe even more innovative by permitting some flexibility in how, when, and from where they are allowed to engage the company's resources.
Still, security remains one of the biggest concerns among IT executives when it comes to consumer technology in the workplace. Although some of the fear is fueled by vendors and analyst reports seeking to sell security tools, some of the worries are legitimate. But with tools for encryption and access control, you should be able to safely provide access to some enterprise data and applications to trusted users.
The adoption of a virtualization strategy addresses many of the challenges of consumerization of IT, says Paul Martine, CIO of Citrix Systems, a virtualization technology provider. By hosting all applications, virtual desktops, and data in the data center, you can deliver these services to any consumer devices in a controlled and secure fashion, Martine says.
However, many virtual desktops are designed for use on Windows PCs and Macs, and they don't work well in a mobile environment. The issue is not just screen size, but lack of support for touch and other native user interface methods, as well as back-end applications that don't reformat themselves to the current context, says Ryan McCune, senior innovation director at Avanade. He notes that Citrix and others now offer APIs to help developers make their back-end apps mobile-savvy, so they can adapt to the device being used.
Cloud services that are designed to deliver apps and data securely over a network can also help address security concerns. But few cloud services yet work well with mobile devices; Google Docs and Microsoft Office 365 being prime examples of such PC-oriented services. And many apps make it easy to use cloud storage services -- such as Appe's iCloud, Box.net, Dropbox, and Microsoft SkyDrive -- that IT can't manage. However, more options are emerging to make consumer-class cloud storage more palatable to IT.
Consumerization Step 6: Build an App Store that Appeals to Users
People who use mobile devices such as iPhones, Galaxys, and Droids are accustomed to going to app stores to easily download what they need for their devices.
For its own employees, Avanade is developing several enterprisewide mobile applications, including some that will connect employee mobile devices into the company's social computing capabilities such as employee profile pages, microblogging sites, video and media sharing, search, communities, and blogs.
The majority of enterprise applications are not optimized for mobile devices, and many users opt for work-arounds to access them, says Chris Miller, Avanade's CIO. "We can take lessons from the consumer app store model and apply that to meet the specific needs of the business environment," Miller says. On the commercial software front, both SAP and Oracle have invested in creating mobile clients to access their ERP and CRM systems, in recognition of the increasing endpoint diversity among users.
An enterprise app store should provide employees with a central portal to request an application across any number of devices -- from laptops and desktops to tablets and smartphones, Miller says. From a management perspective, it should also have built-in approval processes and workflows to manage costs and make sure the right people and teams are getting access to the tools they need.
And, says Avanade's McCune, enterprise app stores need to acknowledge the commercial apps available to users and steer them to preferred apps by adding links to the Apple App Store, Google Android Market, Microsoft Windows Store, and so on.
Consumerization Is Unstoppable, But that's OK
The consumer IT trend seems unstoppable, given the proliferation of tablets and smartphones, cloud tools, social tools, and mobile apps in the workplace. That doesn't necessarily have to be a bad thing for technology executives.
Rather than looking at this development as another drain on IT's time and resources, organizations can embrace the opportunity to give workers new levels of productivity and flexibility, with the ability to work from virtually anywhere using the tools of their choosing.
If you understand your organization's risk tolerance and approach consumerization not as a threat but as a different way of managing, you can come up with an effective strategy that accounts for risk but also enables employees -- and, in turn, enables your business. The returns can be substantial.
This story, "IT's 6-step guide to adopting consumerization," was originally published at InfoWorld.com. Follow the latest developments in consumerization of IT at InfoWorld.com. For the latest developments in business technology news, follow InfoWorld.com on Twitter.
Read more about consumerization of it in InfoWorld's Consumerization of IT Channel.
This story, "IT's 6-step Guide to Adopting Consumerization" was originally published by InfoWorld.