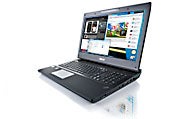 The Asus G74SX is a "monstrous gaming powerhouse" says our reviewer, who gave it 4 of 5 stars. The laptop has a 17.3-inch screen and weighs almost 10 pounds, runs on a second-generation Intel Core i7 CPU, and blazed through our benchmarking tests. TigerDirect.com has the Asus G74SX-XT1 model on sale now for $250 off the usual price. For $1200 you get 12GB of DDR3 RAM and a 500GB hard drive.
For hot tech bargains in your inbox every week, subscribe to PCWorld's Bargain Bulletin newsletter.
This story, "Asus G74SX 17-Inch Gaming Laptop, $1200" was originally published by PCWorld Exclusive.