Dealing With Software Rebate Hassles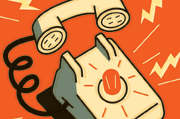 I bought H&R Block tax software along with a few other software products that Office Depot advertised with rebates when purchased at the same time as the tax program. Movie Plus was one of the products I chose, and Serif, the publisher, has not honored the $40 rebate. Serif representatives say I have to provide them with the UPC of the tax software as proof of purchase, but that is not listed as a requirement in the rebate instructions; the instructions say that proof of purchase should be a dated store receipt or online invoice. I have sent all of the materials as required by the instructions. All the other rebates for software I bought that day have been honored. Can you help me get that last $40 rebate?
--James Whitlow, Indialantic, Florida
On Your Side responds: Whitlow had scanned and dated all of the materials he sent in for the rebate, so we forwarded that information to Serif to see if the company could clarify the terms of the rebate and point out any errors or missing information.
A Serif representative reviewed the materials and agreed that Whitlow had correctly submitted all of the required information. Serif apologized to Whitlow for the error and the poor service. The representative said that initially the rebate system was set up incorrectly, which resulted in a small number of customers not receiving their rebates, but that the error has been fixed and will not happen again. The rep also confirmed that Whitlow will get his rebate soon.
Whenever you mail in a request for a rebate, it's a good idea to scan and date everything first, as Whitlow did. That way, you'll have a copy of the associated materials for your records in case anything goes wrong with the request.
Konica Minolta Printer Recall
Konica Minolta has recalled several desktop color laser printer models. The printers can short-circuit and overheat during use, posing a fire hazard. The recalled models are the Magicolor 3730DN, Magicolor 4750DN, Bizhub C35, and Bizhub C35P. Model numbers are located on the plate attached to the side of the printer, as well as on the bottom of the printer's front door.
If you own a 3730DN or 4750DN, stop using it immediately and contact Konica Minolta to schedule a free replacement. If you have a C35 or C35P, the company will send an authorized service agent to repair and replace the faulty part.
For additional information, contact Konica Minolta toll-free at 800/825-5664 and press the 5 key, or visit the Konica Minolta website.
Have you run into a problem involving customer service, a warranty, a rebate, or the like for your tech gear? Email us at onyourside@pcworld.com.