Windows 8 vs. Mountain Lion: Which OS Succeeds at Bringing Mobile to the Desktop?
Page 2 of 2
File Management
With Mountain Lion, Apple does little to advance the Finder, OS X's file manager. It looks and works almost exactly as it does in Lion--if you're used to Windows Explorer or a previous version of Mac OS X, you won't take long to feel right at home with Mountain Lion's Finder.
Microsoft may be working hard to push the Metro interface, but any advanced file management still requires you to use the more traditional Windows Explorer. Fortunately, in Windows 8, Explorer gets an upgrade: It now features a Ribbon toolbar to make accessing commonly used features easier.
Switching between Metro and the traditional Windows Explorer is more than a little jarring and frustrating, so here's hoping that Microsoft does something to make managing files from Metro a little simpler. At the very least, I should be able to access my user account folder and flash drives or CDs without having to jump to Explorer. Maybe Microsoft wants you to use its SkyDrive online storage service instead? (More on that in a moment.)
iCloud and Windows Live
Windows 8 and Mountain Lion tie in to cloud services from Microsoft and Apple, respectively. Both let you sync your data across devices, and both include some sort of online file-storage service.
Windows Live is everywhere in Windows 8. You can set up your Windows 8 account using your Windows Live ID. This action will let you sync various PC settings across all of your Windows 8 devices, and it will set up the SkyDrive app with your account information.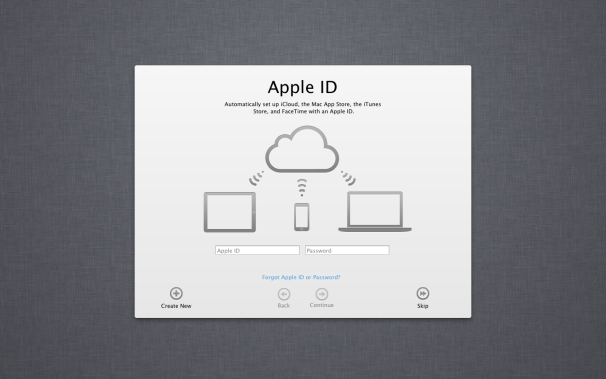 Likewise, when you first set up Mountain Lion, it will ask you to enter your iCloud login information. From there you can sync your email, contacts, calendars, notes, reminders, and recent photos across your Macs and iOS devices.
New in Mountain Lion is Documents in the Cloud, which lets you store your documents through Apple's iCloud service. If you have an iCloud account, you can store your files on Apple's cloud instead of on your hard drive, provided that your applications can take advantage of the feature. You can access your Documents in the Cloud through a program's open or save dialog box, or drag and drop a file from anywhere in the Finder to the dialog box to save it to iCloud.
As it stands, Documents in the Cloud on Mountain Lion is kludgy and awkward--you can't access any documents stored on iCloud through the Finder, for example. Let's hope that it's a little more fully baked by the time Apple releases Mountain Lion this summer. iCloud is free, and it comes with 5GB of storage, but you can buy additional storage space.
With SkyDrive, Microsoft takes a slightly more traditional approach: Using SkyDrive involves running a separate app through which you can access all of your SkyDrive-stored files. SkyDrive is a free service from Microsoft, but it limits you to 25GB of storage.
What About Tablets?
One of Microsoft's main talking points for Windows 8 is that it makes "no compromises"--this one OS will run on your desktop, laptop, tablet, or touchscreen PC. This approach has some obvious advantages: For example, all of your applications will work across all of your hardware, and you won't have to relearn everything when you buy a new piece of equipment.
Just the same, this approach has some clear drawbacks too. For one thing, the learning curve for Windows 7 users can be more than a little difficult. Although the old desktop is still present, you have to work with Metro to some extent no matter what, since the Start screen replaces the traditional Start menu. And the reliance on hot corners for using Windows 8 with a touchpad or mouse takes quite a bit of getting used to.
On the other hand, Apple still sees Macs and iOS mobile devices as different beasts. Despite iOS's strong influence on its older sibling, OS X is still OS X. Apple's philosophy seems to be to allow the operating systems to be true to themselves, but to bring iOS features to the Mac wherever it makes sense to do so, and to make OS X seem familiar to iOS users. For example, although OS X is clearly different from iOS, many of the built-in apps have the same names across the two--the thinking seems to be, "Let's allow the Mac to be a Mac, but let's make iOS users feel right at home." Because of the differences, I think it's safe to say that reports of OS X's demise are greatly exaggerated.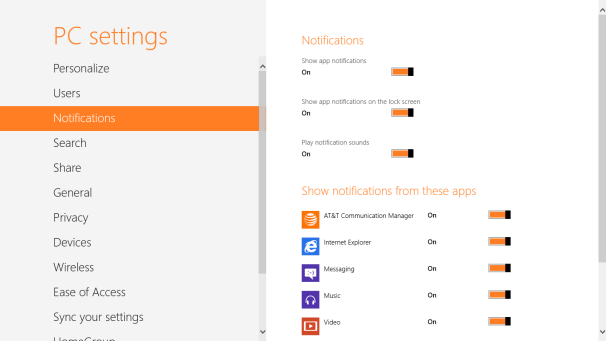 Microsoft seems to regard the tablet as being an extension of the PC, whereas Apple sees it as a fresh break. That is, for Microsoft, tablets represent the next step in the PC's evolution, not a separate category. As a result, with Windows 8, Microsoft is trying to bring the same interface to all devices, rather than copying only certain elements from the tablet over to the PC.
And although you can turn off or ignore most of the iPad-influenced features present in Mountain Lion, with Windows 8 you really have no choice but to use Metro to some degree. It's a bit of a brain transplant, and if our recent survey is any indication, it has engendered some fierce opposition. For Microsoft's sake, here's hoping that the company can smooth out some of the kinks.
Shop Tech Products at Amazon