Page 2 of 2
3. Limit the Tiles
While we're on the subject of tiles in the Metro interface, Microsoft needs to pare down the tile collection. The default Windows 8 installation adds a little over a page worth of tiles. Onuora Amobi, editor of Windows8Update.com, stresses, "Make sure the number of introductory tiles in Metro aren't more than one page wide. If I want to add more, I will."
I agree. It would be much cleaner and more aesthetically pleasing if Windows 8 started with just one page of tiles out of the box. Windows 8 should exemplify simplicity on the initial install, and leave it to the user to introduce the level of complexity they're comfortable with.
4. Enable WOA to Join Domain
Microsoft has already stated that Windows on ARM (WOA) tablets are intended for "unmanaged" environments—Microsoft speak for "won't attach to a Microsoft Windows network domain."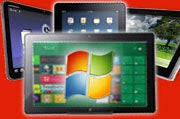 We'll have to wait and see what vendors come up with for Windows tablets, but that puts a huge burden on tablets built on the traditional Intel/AMD architecture. Tablets like the Apple iPad, and Samsung Galaxy Tab are built on ARM hardware and provide better performance and longer battery life.
WOA tablets will be the most direct competitors with the existing tablets that dominate the market. But, having a Windows 8 tablet that isn't capable of joining the Windows domain and being managed by IT with the rest of the environment will take away the primary advantage of Windows 8 tablets.
5. Bring Back the Start Button
When the Windows 8 Consumer Preview drops into desktop mode, it basically looks and feels like Windows 7…except the Start button is gone. To get to Start you have to sort of hover in the lower left corner where the button is normally found until a thumbnail of the Metro Start menu pops up.
Removing the Start button from the desktop view seems like one of those changes Microsoft is often accused of--moving things for the sake of moving them just so it seems "new". I don't generally subscribe to that theory. I assume Microsoft does what it does with intent, and as a result of testing and user feedback.
But, if desktop and laptop users are going to spend most of their time in Windows 8 within the desktop view, and it looks and acts like Windows 7, what harm is there is leaving the Start button, and access to the functions on the Start Menu where users are used to finding them?
There you have it. Windows 8 is already on a mostly pre-determined development schedule, and I believe Microsoft has no intention of making any major changes, so I won't hold my breath. But, if Microsoft would make these changes it would make Windows 8 a much better OS, and greatly reduce the possibility that it might flop when launched.