Low Supplies of Retina Display Limits iPad Shipments, Analyst Says
Demand for Apple's new iPad is still high, but production is struggling due a low supply of Retina displays and the investigations into factory conditions, according to Sterne Agee analyst Shaw Wu.
Apple Insider reports that Wu revealed this information in a note last week, sent with the purpose of reassuring investors that demand for Apple's tablet is not declining.
Wu claims that he has investigated Apple's supply chain and found that the company still has a high interest in the iPad. He expects that the Retina display problem will be rectified soon, as Apple adds production lines and suppliers for the tablet.
It has been reported that Samsung is the main supplier of Retina displays for Apple, which leaves the two companies in a strange situation, with Samsung both a vital component supplier and yet an opponent in several courtrooms around the world.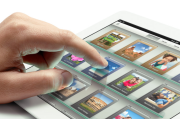 Wu adds that the investigations into Foxconn factories are part of the cause of limited iPad shipments. Following worker misconduct accusations against Apple, factories were investigated by the Fair Labour Association, resulting in a promise from Foxconn to reduce overtime hours and increase pay.
These reduced hours mean production on the assembly lines of Apple's devices may have declined. The lack of overtime is also causing problems for the workers themselves, who need the extra money from longer hours to help their families.
Wu still estimates that Apple will sell 63 million iPads in 2012, a higher prediction than his earlier 60 million estimate.
Gartner has also released its tablet predictions this week, stating that the iPad is the product to beat.
At a Glance
Apple's third-gen iPad is defined by its amazingly sharp and crisp high-resolution display, as well as its option for 4G. The heavier weight is a disappointment; but the display, coupled with Apple's solid app ecosystem, makes this tablet the one to beat. Read the full review

Pros

Vivid, high-resolution display
4G LTE option via Verizon

Cons

Slightly increased weight
iOS 5.1 still lacks large-screen optimizations
For comprehensive coverage of the Android ecosystem, visit Greenbot.com.