Smartphone Camera Face-Off: Seven Phones Put to the Test
Page 3 of 4
Overall Video Quality Results
Though the myTouch 4G Slide dominated our still image-quality tests, it tanked on our video-quality tests. The winner for video was the iPhone 4S, which achieved the highest average scores for regular-light and low-light video, and for audio quality. Finishing a close second was the last-place finisher in our still-life category, the HTC One S. The One S actually tied with the iPhone 4S for low-light and regular-light video, but lost the battle due because of its slightly lower score for audio quality. The Samsung Galaxy Blaze achieved the highest score of audio quality in video.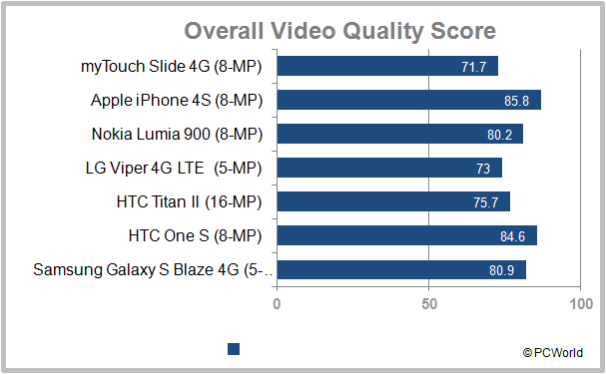 Conclusion
We'll continue to perform testing on phone cameras throughout the year, and we'll update our test results as we get in new phones. We've posted our test photos on the last page of this article, so take a look at them and sound off on your favorites in the comments. These tests, of course, are not the be-all and end-all for smartphone cameras. For instance, some cameras do very well in natural light, which we did not test in this subjective evaluation. Others do better after you tweak the settings or use certain shooting modes. The good news is that none of the smartphones we looked at took bad photos--all achieved scores of better than 70, and even that mark would have placed them in the upper reaches of the Fair interval, well above a Poor word score rating.
It's exciting to see so many manufacturers focusing on camera technology. Using your smartphone as your main camera has two huge benefits: You always have it with you, and it's a cinch to share pictures from. Traditionally, mediocre image quality has been the compromise people accepted when relying on a smartphone camera. But now, image quality is steadily improving--and it will only get better.
Shop Tech Products at Amazon