Page 2 of 2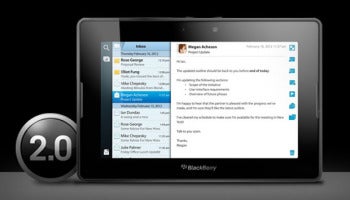 Today, developers for BlackBerry can create traditional browser-based Web apps or use RIM's current BlackBerry WebWorks, a PC-based toolkit introduced in 2009, to create "hybrid" apps. The hybrid model is increasingly used also for Android and iOS: apps are developed with HTML5 and application frameworks and then packaged or wrapped in some native code for deployment on either a RIM smartphone or tablet, as if they were pure native apps. An embedded WebView, based on the Webkit engine, lets the hybrid app display HTML pages.
A growing set of APIs let WebWorks developers easily include BlackBerry specific features and services. One example is the BlackBerry Messenger SDK, which lets the app receive and respond to messages, such as an invitation to download an app or automatic updates from a game to the user's Messenger profile.
Over the past year, RIM has stepped up its developer relations efforts, according to Stanley. "We're becoming more of an 'evangelizing' team," he says. "We're hiring new people to get out there and talk with developers at conferences, keynotes, local meetups, showing them and guiding them on Web development and preparing them for BlackBerry 10."
RIM claims those efforts are bearing fruit. In an April blogpost, RIM's Alec Saunders said the first 2012 calendar quarter was the "single biggest quarter for developers in RIM's history." The company says there was a 21 percent increase in BlackBerry smartphone apps, 89 percent increase in apps that use the BlackBerry Messenger API for greater interactivity and information sharing, a 240 percent increase in PlayBook apps (a total of 20,000) submitted to the online BlackBerry App World catalog. The number of registered vendor in App World jumped 68 percent, with over 35,000 vendors registered or pending approval for App World inclusion.
Though the total number of BlackBerry apps is far less than Google or Apple offer, BlackBerry app daily downloads are comparable. In February, RIM claimed that daily app downloads from App World had reached 6 million, that the online catalog had more paid downloads than Google Play, the online site for Android apps, and that AppWorld was the second most profitable app store after Apple.
According to Stanley, about 20 to 25 percent of the App World catalog are apps built with the WebWorks SDK. "We're seeing a solid increase in WebWorks apps," he says.
Those are positive signs. But RIM still has to actually release both a winning user interface and a solid operating system running on devices that will capture buyers' dollars and loyalty. And time is running out.
John Cox covers wireless networking and mobile computing for Network World
Twitter: http://twitter.com/johnwcoxnww
Blog RSS feed: http://www.networkworld.com/community/blog/2989/feed
Read more about anti-malware in Network World's Anti-malware section.
This story, "RIM's Future Hangs on Developer Support for "New BlackBerry"" was originally published by Network World.