Page 2 of 2
Embedded Security
The very structure of a VM can also help boost security because its disk files include not only the required operating system, middleware and applications, but also the configuration settings that help ensure its security, says Michael Crandell, CEO of cloud management vendor RightScale.
When Jason Axne, systems administrator at conveyer belt manufacturer Wirebelt Company of America, backs up VM files, he knows that "all the security measures you have at the virtual server level are replicated, because it is a copy of that virtual server."
As organizations expand their use of the cloud, they often develop many different machine images for different workloads, says Crandell. If the images are managed properly, this encapsulated security information can help ensure that proper settings are automatically applied as new VMs are created. Done poorly, it can create a chaotic sprawl of server images, especially as new images with new names are created as patches and updates are applied to the original images, he says.
RightScale works to avoid this by creating a small number of base image templates that retain the same file name over time and are supplemented with the definitions required to provide specific services.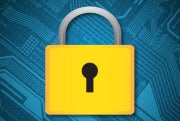 Another source of embedded configuration and security information that can be reused in the cloud is Microsoft Active Directory, which many customers already use for their internal repository of information about the characteristics of users and IT components.
Using Active Directory, customers can set policies to automatically configure servers based on which Active Directory Organizational Unit (OU) they are in, says Shahin Pirooz, executive vice president, CSO and CTO at cloud services provider Centerbeam.
With Centerbeam, he says, a user can drag and drop a VM into the right OU within Centerbeam's cloud to ensure it is configured correctly. Other cloud providers allow similar capabilities to reuse the Active Directory's configuration and security settings by using APIs to set up federated access control.
Genomic Health, a molecular diagnostics company, had to try several access-management vendors before finding Okta's identity- and access-management service. Okta's support of the security assertion markup language standard allowed Genomic Health to use its internal Active Directory to provide single sign-on services for more than 20 software-as-a-service applications, says Ken Stineman, senior director of computing and IT.
Egenera's PAN Manager uses virtualization to ease administration duties and help secure multitenant architectures, where different customers share the same hardware. PAN Manager virtualizes the network that connects VMs in the cloud, storing all server-specific and application-specific information on a storage area network rather than on individual servers. Because no application-specific information sits on the server, customers can share single or multiple platforms while ensuring their applications, data and network traffic never touch and thus don't pose a security risk, says Scott Geng, senior vice president of engineering.
Virtualization also makes it easier to set up test servers before deployment, which in turn makes it easier to test security and performance before putting servers into production, says Conway of Backupify. The tools (often open-source) that are used to monitor loads on systems can also uncover attacks, he adds.
If, for example, the tool detects a cluster-wide resource leak caused by one user, that could signal a distributed denial-of-service attack or some other attempted breach.
Limitations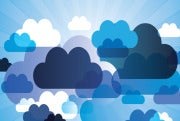 There is, unfortunately, no magic pill-no one everyday cloud management technique that addresses all of an organization's security needs. For one thing, the more that an organization needs complete and fine-grained security, the less it can piggyback on cloud management tools. This is because determining which applications can run on a server, or even which users can access that server, does not control which specific actions a user can or cannot take on that server. That level of role-based control is often required to ensure security or compliance with regulations governing data protection.
Tools such as Aveksa can control such finer-grained entitlements based on information from identity repositories such as Active Directory, says Vick Viren Vaishnavi, president and CEO of Aveksa.
The cost of conventional management tools is another hurdle, says Nand Mulchandani, co-founder and CEO of cloud management vendor ScaleXtreme. While a virtual machine might cost nine cents an hour, for instance, a system to manage it-such as the BMC BladeLogic management automation suite-"costs $1,500 per server," he says.
Such high costs force organizations with thousands of servers to go without automated patch or configuration management or audit compliance, he says, relying instead on scripts or manual processes. Schoenbeck counters that BMC's tools "enable you to gain control of [cloud servers], particularly in a world where they're so easy to get" to ensure they're being used appropriately, securely and cost-effectively.
Even the provisioning management tools now available for the cloud do not support every cloud provider, says Ken Owens, vice president of security and virtualization technologies at IaaS provider Savvis. That can drive up cost and complexity by requiring the use of multiple systems to manage servers in private and public clouds. Owens expects integration will become easier in the next several years as standard interfaces evolve.
Many infrastructure management tools fall down in the way they segregate cloud management, or even just virtualization management, from the rest of IT management, says Mann. "A good infrastructure management stack will manage the cloud through the same processes and capabilities as it manages internal IT."
Mulchandani also warns that some internal server management products were not built to run in the public cloud. Most patch management tools designed for internal corporate environments, he says, require an open inbound port to accept patch updates, something "you'd never be crazy enough" to allow on a public cloud server with a public IP address. ScaleXtreme offers a patch management tool that uses a one-way outbound HTTPS port.
Fringe Benefits
Good cloud management practices aimed at reducing spending can also improve security. Take, for example, asset discovery tools, which uncover how many applications and other systems are in use in an organization and compare those findings with the list of applications that are officially on the books. These practices-often used when estimating how much capacity an organization will need in the cloud-allow a company to cut costs by eliminating unneeded or duplicate applications and bundling what had been one-off licenses into volume purchase agreements. These same tools also give security administrators a more complete list of the cloud applications and services they must secure.
Sometimes, the side benefits flow the other way-from security tools to other business processes. While the main benefit of single sign-on for Genomic Health, for instance, is improved security, it also makes it easier to track which employees have taken their required on-line training, Stineman says.
The real upside, he hopes, will be the ability to eventually speed the process of removing users' application access when they leave the company, eliminating the three to four hours of work it now requires to prove employees have been properly deprovisioned from all of the company's SaaS systems.
Learning Curve
As more organizations move more applications to the cloud, many observers predict vendors will provide better integration between in-house and cloud management tools, and with premium services that give customers better control over and visibility into their cloud environments.
Using management tools to improve security can also boost the career of an IT manager, says Mann, by helping him or her move beyond being seen as an internal supplier of services to being treated as "a trusted adviser [with] the experience to provide these cloud services to the business," bringing IT's proven expertise with managing secure internal environments to the cloud.
This story, "Cloud Computing Tools: Improving Security Through Visibility and Automation" was originally published by CSO.