HP ZR2440w LCD Monitor Review: 24-Inch Display Offers Brilliant Color
ZR2440w 24-Inch LED LCD Monitor

$455.00 (Check Prices)

via Amazon.com Marketplace

Amazon Shop buttons are programmatically attached to all reviews, regardless of products' final review scores. Our parent company, IDG, receives advertisement revenue for shopping activity generated by the links. Because the buttons are attached programmatically, they should not be interpreted as editorial endorsements.

The ZR2440w is a fairly expensive display, but it swept the competition in our latest on-screen performance tests.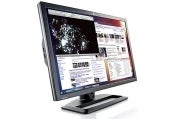 At $425, the 24-inch HP ZR2440w was the most expensive monitor in our latest test group, but it was also the most capable. It produces brilliant images, it's easy to adjust, and it can connect to your other electronic devices in lots of ways.
For our roundup of 23- and 24-inch monitors, our jury of testers considered five measures: text legibility, color quality, screen uniformity (whether light or dark spots exist), the smoothness of video containing fast motion, and the visibility of the screen across a range of viewing angles. With its bright 350 cd/m2 of luminance, 16:10 aspect ratio, and antireflective IPS screen, the ZR2440w earned a score of Very Good in all five measures.
In addition, the ZR2440w offers a full complement of ergonomic adjustments--namely, height, tilt, swivel, and pivot. Add a few niceties such as a four-port USB hub and an assortment of input options, including DisplayPort, DVI, and HDMI, and you have a winner.
The Samsung S24A450bw and Dell U2412M are also good performers, and they cost less. But if you want the best monitor and you're willing to pay for it, the HP ZR2440w should be your top pick.