Page 2 of 5
Desktone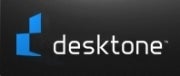 Desktone uses Citrix components mixed with its own desktop portal and management infrastructure. The Citrix pieces, including session access applications like Citrix Receiver, give remote users choices for what kind of device, such as a Mac or a Windows XP client, might be compatible with a Desktone-hosted Windows7 session.
Hosted sessions can reside in an isolated Active Directory or workgroup environment, or could be connected via a VPN (many types are supported) linking Desktone's provisioned desktops and network with a customer network.
VPN connectivity can be problematic because of the varying types of VPNs possible. Those connected with firewall and VPN appliances are said to be the most easily (and quickly) deployed.
The customer intake process revolved around deciding on networking characteristics, choosing different hosted desktop variants based on an average installation, then upgrades to hosted sessions based on memory, disk and number of CPUs (up to four) that would be hosted on Desktone's cloud, which consists largely of blades in a multi-tenant environment.
Like several other DaaS service providers we tested, Desktone has an administrative portal application to manage DaaS operations security and asset formation (making customized versions of Windows 7 for DaaS access). Also, like other DaaS service providers tested, we found we could join our Active Directory network logon characteristics if needed; a network "join" is available for VPN purposes, too.
The Desktone portal allowed us to check site configuration, desktop asset distribution and pools, which are aggregations of resource groupings. Pools allowed us to differentiate RDP-connected machines by resources, like local-to-session clipboard, drive, printer, smartcard or COM port connectivity.
Dividing pools in this way allows an organization to create Active Directory pools, then to differentiate between persistent and non-persistent sessions, and then to aggregate local resources.
Desktone provides the ability to try the instances prior to deployment by administratively accessed instances that use Windows SysPrep (as opposed to image snapshots, so as to correctly establish the hardware licensing requirements for Windows 7) and should be familiar to Microsoft admins.
The landing URL (the starting page that clients access via a browser) can be customized with organizational logos and imprints. It's also possible to link to third party trouble-ticket applications and systems management applications. We found out about Desktone through an announcement by Quest Software that its applications will soon be able to resource-manage Desktone's portal and DaaS resources under their "umbrella.''
The Citrix infrastructure helps expand accessibility; common desktop operating system browser connections are available, as well as various Citrix Receiver clients for devices ranging from iOS and Android through Linux, Mac OS, and of course, older and newer versions of Windows. This would also hold true for other DaaS service providers we tested.
The Desktone speed was very good in our light performance testing, and we encountered no difficulties using Windows 7 instances. We'd like to see stronger password and smartcard use, as we could change passwords to those easily cracked by dictionary attacks, although passwords are wrapped by the default https session encryption.
Desktone was fast and easy to provision, made easily accessible by the largely Citrix-based connectivity infrastructure. Performance was good, and extensibility to existing networks should be simple.
Next page: dinCloud and Nivio