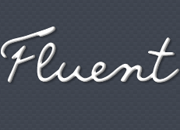 Google may have made waves with its recent Gmail redesign, but these days, it's a fresh interface by some former Googlers that's generating all the buzz.
Fluent is a startup launched by three guys who left Google to revolutionize email on their own terms. They came up with a Web-based email client that aims to transform Gmail from a stagnant inbox into a "work-oriented stream." Their basic goal is to make Gmail more chatty and conversational -- more like texting and less like, well, email.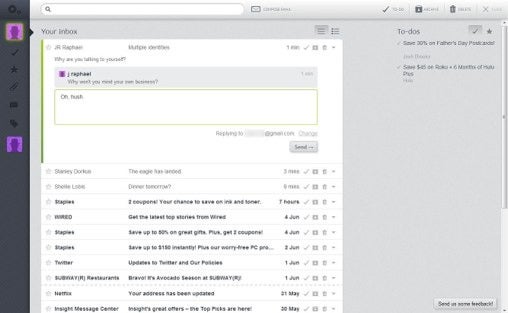 Plenty of people are intrigued by the concept: Fluent's founders say they've gotten tens of thousands of signups since opening in private beta earlier this year. At this point, there's a minimum two-month wait just to get in.
Not to worry, though: We can take you inside Fluent right now. I've spent some time testing the service to see what it's all about. Your personal tour starts here.
The Fluent Gmail vision
The guys behind Fluent all worked on Google's short-lived Wave collaboration tool -- Cameron Adams was the lead designer, Dhanji Prasanna helped build Wave's real-time search system and Jochen Bekmann served as the project's tech lead -- and that influence clearly shines through in their new creation.
The second you get into Fluent, you see Gmail in a whole new way. Fluent shows your messages as a stream of conversations, making the experience more like browsing through Facebook than trudging through email. While Gmail requires you to click on a message to open it before replying, With Fluent the Reply box is right on the Inbox screen, akin to a comment thread on a Facebook post. You never have to open a message to view responses or add your own response.
Gone are the increasingly superfluous functions Google has tacked onto Gmail, such as "Invite a friend," Google+ functions, etc. -- not to mention the ads. In their place, Fluent provides a minimalistic gray navigation bar on the left of the screen and a simple white toolbar on top.
The navigation bar gives you access to a handful of settings as well as your drafts, starred messages, attachments, labels and "all mail" view. It also has a button that lets you browse attachments -- Fluent compiles all attached files from emails and centralizes them in a single, easily filtered and searchable slideshow -- and one that allows you to view your to-do list (more on that in a moment).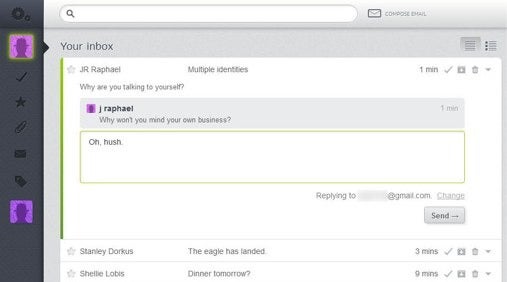 Refining Gmail's features
Fluent's top-of-screen toolbar is taken up largely by an instant search function, which is one of the service's standout features. Fluent starts searching as soon as you type a single letter into the box; results from your email appear almost instantly and then morph as you continue to construct your search term, much like what Google does with its "Instant" search functionality. The speed and accuracy of the mail search is stupendous; it makes you wonder why Google doesn't have something similar in place for its own Gmail interface.
The right side of the screen is taken up by Fluent's to-do panel. (I told you we'd get back to that soon.) To-do lists are actually a native feature of Gmail, but they've always remained curiously buried in Google's interface; if you didn't happen to know they existed, you'd probably never find them. Fluent brings the feature front and center, and once again, the execution makes you wonder why Google hasn't done the same.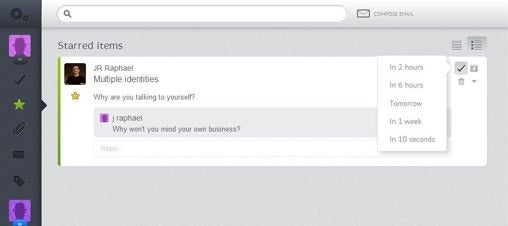 With Fluent, every message you view has a single-click option to turn the conversation into a to-do list item. Clicking the option instantly adds the item onto your to-do list; you can also long-click to add an item and simultaneously set a reminder.
By default, Fluent provides an infinite inbox scroll -- meaning that new messages continue to load and show up as you move downward, without your having to click forward to a new page. The need for page-to-page clicking has always been a pet peeve of mine in Gmail, so I found this functionality to be a much-welcomed addition.
Fluent has intelligent handling of multiple Gmail accounts, too: Once you add a second account into the program, an icon appears for it on the left-hand navigation bar. The icon allows you to see at a glance if the account has any new messages and, with one click, flip over to its inbox without having to sign out or load a new page.
Fluent has an impressive-looking mobile/tablet interface under development as well, but it's not yet available for public testing.
Fluent's flipside
For all its positives, using Fluent isn't all roses. For example, while Fluent offers a series of keyboard shortcuts that mimic Gmail's, some of the more advanced shortcuts -- such as the "G-I" sequence to return to your inbox from any screen -- are not currently available. As a frequent shortcut user, the absence of those commands was a frustration for me while navigating through the system.
Another speedbump: Fluent, in its current beta form, handles only a limited amount of mail. Right now, Fluent loads your most recent six months of messages. The company says it'll eventually offer a "premium" subscription that will provide complete mail access along with other extra features; it's not yet clear how much that subscription will cost or how the basic free service might change once paid plans are introduced
Finally, you can't discuss Fluent without discussing privacy. While Fluent doesn't have direct access to your Google password -- you authorize the program using Google's OAuth service -- the system does require access to all of your Gmail data.
According to Fluent's privacy policy, user data is indexed and stored on Amazon Web Services servers, with all transfers taking place via encrypted SSL connections. Fluent says it has "strict internal policies" preventing anyone from viewing your data; the company also promises to permanently delete your data within three days if you choose to close your account. Ultimately, only you can decide whether you're comfortable with those terms and the level of access Fluent requires.
You can try a live demo of Fluent at the company's website; you can also get on the waiting list for a free beta account while you're there.
Fluent has an impressive-looking |mobile/tablet interface under development as well, but it's not yet available for public testing.
JR Raphael is a Computerworld contributing editor and the author of the Android Power blog. You can find him on Google+, Twitter, or Facebook.
Read more about web 2.0 and web apps in Computerworld's Web 2.0 and Web Apps Topic Center.
This story, "Fluent Review: An Innovative New Interface for Gmail" was originally published by Computerworld.