This Cheating Robot Is Unbeatable at Rock-Paper-Scissors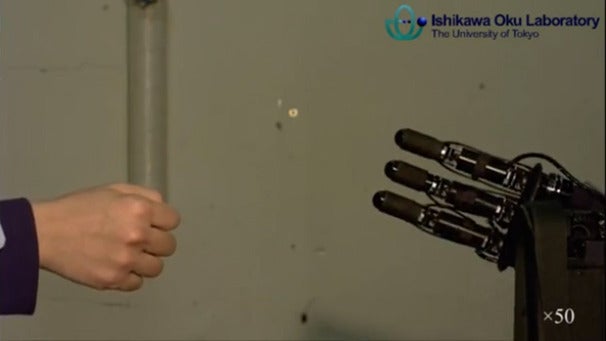 We've already seen robots that could potentially replace our best chess players, multiple musicians, and an entire baseball team. Now Japanese researchers have gone too far and built a robot that will always win at rock-paper-scissors.
The robot's creators from the Ishikawa Oku Lab at the University of Tokyo call it the "human-machine cooperation system." But what they should have called it was the cheeky cheater.
Unlike a human player, this robot comes equipped a high-speed camera that allows it recognize the shape of your hand a millisecond before it plays its winning hand. That single millisecond is imperceptible to a human, but to the robot, it's all the time it needs to win 100 percent of the time.
Of course, there's more to the research than just building a robot that can troll us at our own childish game--this technology is just an example of a robot that can react to human motion within a few milliseconds. Future iterations of this research could produce robots that intuitively interact with humans without being programmed or told what to do.
What happens when you pit two of these robots against each other? Leave a comment.
[Ishikawa Oku Laboratory via CNET and Engadget]
Like this? You might also enjoy…
Get more GeekTech: Twitter - Facebook - RSS | Tip us off | Follow Kevin Lee

Amazon Shop buttons are programmatically attached to all reviews, regardless of products' final review scores. Our parent company, IDG, receives advertisement revenue for shopping activity generated by the links. Because the buttons are attached programmatically, they should not be interpreted as editorial endorsements.