Page 3 of 3
Adobe SiteCatalyst
SiteCatalyst, once an independent product, became part of Adobe in 2009, and Adobe continues to update it regularly. SiteCatalyst is an exhaustive and in-depth tool, and it's widely considered to be the upscale version of Google Analytics, suitable for deep dives when Google fails to get the job done. Many companies use both tools.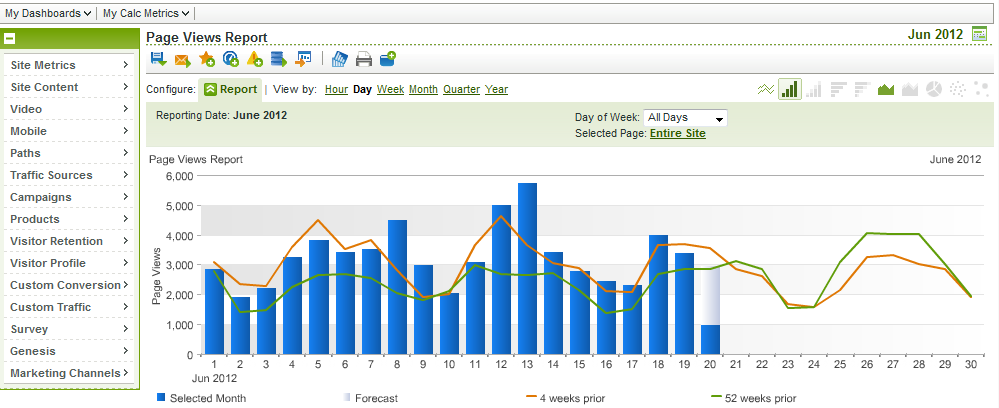 Pricing is individualized based on each business and its traffic; Adobe refused to give us any details other than that. Anecdotal commentary on the Web suggests that you should expect to pay six figures for a basic version of the service, which puts it within reach for only very large Web-centric businesses.
SiteCatalyst provides more options than Google Analytics, and it can look complicated at first glance. The basics are easy to find, though. Just use the left sidebar to hit the highlights. Your traffic graph is available under Site Metrics, and your top pages are under Site Content > Pages Reports.
SiteCatalyst excels at reporting on the finer points of a campaign, including deep mobile stats, video plays on your site, and a breakdown of your search traffic, including whether it's paid or organic. You can easily get lost in all these reports, so be sure to take advantage of the email function (using the row of icons in the toolbar) to have them sent to you on a regular schedule.
Alexa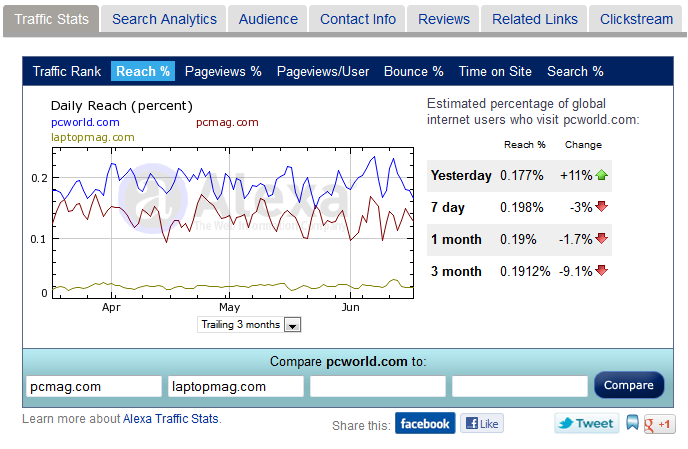 Finally, a few words about Alexa, which is now part of Amazon.com. Alexa is a free traffic-measurement tool that has both a major advantage and a notable disadvantage. The disadvantage is that the numbers are rarely very accurate because they're largely based on traffic reported by a free browser toolbar that few Web users have installed. The advantage is that Alexa makes all of its data available publicly, so you can use it to get a crude sense of how popular your site is relative to the competition--something that's impossible with a standard analytics tool. Use this information to get a rough look at how you're faring against rivals, but don't put too much weight on the figures.
Updated 7/9 to reflect the current branding of Adobe SiteCatalyst.