capsule review
Gratuitious Tank Battles is a Tower Defense Game With a Twist (And Tanks)
At a Glance
Generic Company Place Holder Gratuitous Tank Battles

PCWorld Rating

Enjoy explosions, mechs, and all the jolly fun of World War I in Gratuitous Tank Battles.
Gratuitous Tank Battles has some elements in common with its outer-space ancestor, Gratuitous Space Battles, but it is in no way just the same game with a tank skin. It is, however, just as much fun. Set in a future where "The War To End All Wars" never, uhm, ended, it mixes imagery and concepts from World War I with lasers and mecha, and not much more plot than "They're attacking, we blow them up!" Gratuitous virtual violence, at its finest!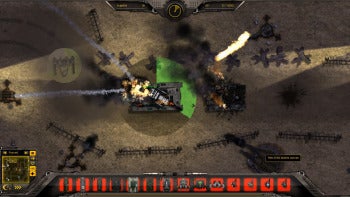 Gratuitous Tank Battles is a "tower defense" game in which you must stop a horde of onrushing attackers by placing defensive obstacles, such as flamethrowers, laser cannons, and entrenched troops. If the enemy slips enough units past your barricades with a certain amount of time, you lose. Resources accumulate to allow you to build more defenses, or replace those destroyed. Weapons have strengths and weakness, and you must constantly tune your defenses against the attackers. Your lasers, for example, rip armor apart but plink uselessly against energy shields. Cheap defenses appear more quickly and cost less, but do less damage and are easier for the enemy to rend. The enemy may take any of several paths and you may not be able to defend all of them. The supply of some items is limited, and you may have to wait to get more, even if you have the resources to buy them. You can speed up, slow down, or pause Gratuitous Tank Battles, so quick reflexes are not required.

Three things make Gratuitous Tank Battles stand out. First, you can choose to play as the attacker as well as the defender, a feature the author claims is unique. In this mode, you place streams of tanks, trucks, mechs, and soldiers onto launch points, and hope they make it through the mix of AI controlled defenders. Strategy here involves figuring what kinds of units the defender is strongest against, and sending in the opposite.

Second, all units in Gratuitous Tank Battles, including the default units, are built using the in-game editor. Choosing from a variety of hull types, you can mix weapons, defenses, and special features to create your ideal army. If you wish, the adaptive AI will even pick up your created units to use as it plans its offensive or defensive strategies. You have a wide range of functional and cosmetic choices. Customized units are very much the key to victory, as the default units do not include all options: For example, I noticed there was no infantry unit that was good against shield-defended targets. I fixed that. I also created hospital and repair yard units, which proved extremely useful. Not everything in the editor is available at once; you must win battles to unlock components, hulls, and upgrades. The starting options are still quite varied.

Third, the dry humor (or humour, since the author is British) of GSB continues in Gratuitous Tank Battles, with modified World War I propaganda posters and over-the-top reports of your victories or defeats against Harry Hun.

The included Gratuitous Tank Battles campaign is fairly short, though it might take a while to beat it on the highest levels as both attacker and defender. However, there is a library of online challenges, maps, and so forth, and you can post yours, as well. The demo includes only three battles, but does include the editor.

The free demo ought to be enough to determine if you like the Gratuitous Tank Battles gameplay; the additional maps and features don't change the core experience. If you enjoy the demo, you will enjoy the full game. Now, go out there and give the Kaiser a good what-for, by gum!

—Ian Harac
At a Glance
Generic Company Place Holder Gratuitous Tank Battles

PCWorld Rating

Enjoy explosions, mechs, and all the jolly fun of World War I in Gratuitous Tank Battles.

Pros

Customization
Dual play modes
Explosions

Cons

Can't enjoy explosions while constantly pausing