Page 2 of 2
Sprout Social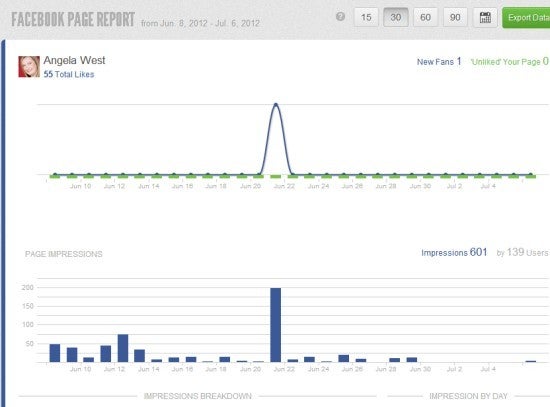 Sprout Social's major advantages over other social media management tools lie in its user interface and in its detailed but easy-to-understand reports. I also like its ability to assign tasks to team members, as well as its "Smart Inbox," which collects all your social media messages (Twitter mentions and direct messages, Facebook mentions and messages, and LinkedIn messages) in an organized inbox that you can manage from one dashboard.
Sprout's feedback is also extremely useful. After you set up your account, it pulls together your follower demographics within 24 hours, and it tells you what you could be doing better. As an analytics junkie, I find this feature to be my favorite part of Sprout Social by far, but other users will appreciate how easy to navigate the Sprout tool is. Sprout's lack of a tie-in with email marketing is notable, especially if you've tried out VerticalResponse's tool.
Cost: The Small Biz plan, which supports up to 20 social profiles, costs $39 per month. The Deluxe plan includes a maximum of 40 social profiles and costs $59 per month. The Premium plan offers unlimited profile maintenance at a cost of $899 per month.
Sendible

Sendible drills down on various tasks, giving you the choice of posting to your Facebook personal-page photo album, posting notes to your Facebook page or profile, posting items to a LinkedIn Group or your LinkedIn status, and so on. This attention to specific actions saves you a lot of time, and it makes Sendible's cost over other tools well worth the investment for businesses that use social media more aggressively.
Monitoring social media for business-relevant keywords and managing your social media presence are a natural fit, and Sendible has married the two tasks well, giving you the ability to create custom email alerts for key terms such as your company name. You can send email from within the tool, as well, although Sendible does not integrate email and social media into one comprehensive campaign as VerticalResponse does.
Google Analytics monitoring and basic social media analytics come with the Marketer package, which is all most small businesses need.
Cost: The Marketer plan includes up to 30 services for a fee of $30 per month. The Business plan covers a maximum of 80 services and costs $70 per month.
Postling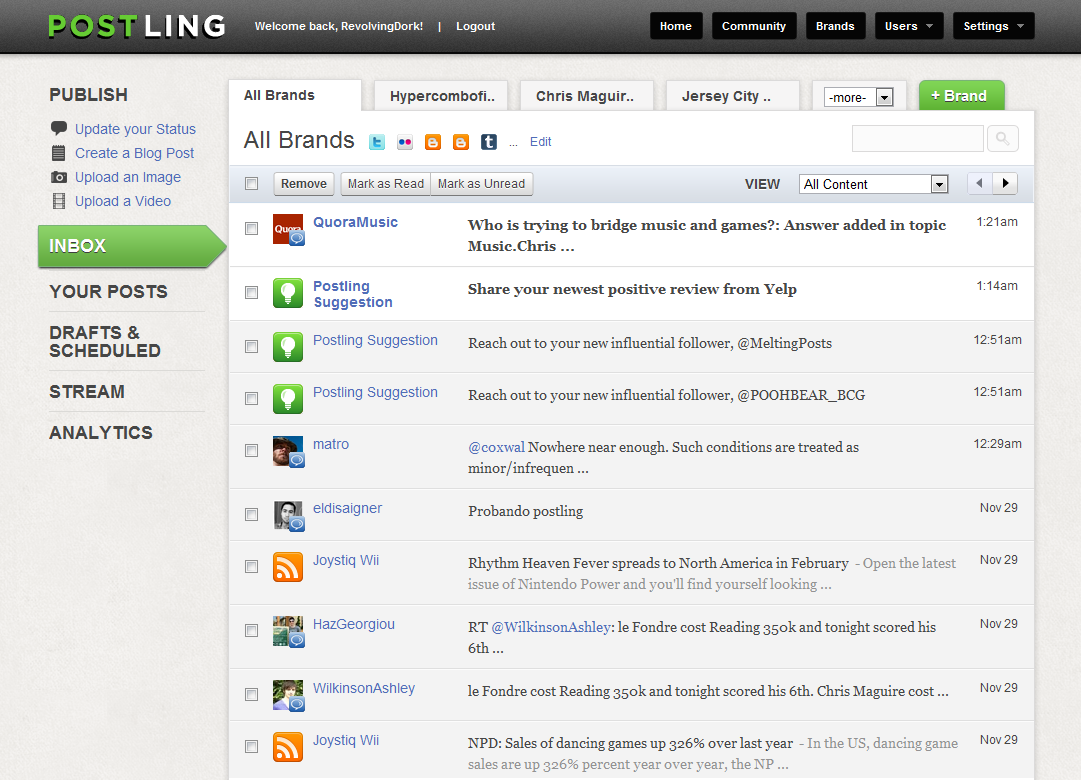 Postling blends social media monitoring, posting, and reporting, but it also incorporates instant notifications for reviews of your business on TripAdvisor and Yelp, the two sites by which hospitality and restaurant businesses live and die. For any company involved in those industries, Postling is the obvious tool of choice. The inbox is similar to Sprout Social's in that it allows you to deal with all mentions and messages from one place.
Postling's pricing structure makes it ideal for businesses that want to maintain a pared-down social media presence. If you need the scalability to add many accounts in the future, it may not be the best choice given its per-account pricing.
Cost: Postling is $5 per month for five social media accounts, $3 per month for each extra account.
Different Tools for Different Businesses
Your choice of social media management tool depends on the nature of your business and how deeply involved you want to become with social media. If you don't consider yourself tech-savvy, or if you like the timesaving feature of a built-in content library, VerticalResponse might be appropriate. If you're working with a tight budget and you require fewer features, it's hard to beat the free version of HootSuite.
Sendible is the best option if you're looking to automate tasks and receive alerts when your business becomes a topic of conversation on social networks. If you're operating a service-oriented business, such as a restaurant or spa, and if you need real-time monitoring of TripAdvisor and Yelp, check out Postling.
Each of the paid tools I've discussed here offers a free trial (except for Postling, which charges $1 for a trial), so you risk little in trying them to find the one that best fits your business's needs.
Angela West is still waffling about which of these paid tools she'll upgrade to. Copywriter by day, she specializes in making website copy easy to read. Follow her on Twitter (@angelawest) or check out her Facebook page for a compilation of all of her PCWorld Business Center posts.