The giant fish tale of Google's Nexus 6 is getting less murky. 
Android Police says it has "new information" confirming the phone will be called the Nexus 6 and sport a 5.9-inch Quad HD display—"Quad HD" typically equals 2560 x 1440 resolution—with 496 pixels-per-inch. That's even bigger than the 5.7-inch Galaxy Note 4, the standard bearer for Android phablets. 
The phone looks like a blown up Moto X, though Android Police says it will also have front-facing speakers, a 13-megapixel camera with optical image stabilization, and a larger 3200 mAH battery. It's also expected to work with Motorola's turbocharger, which can boost a Moto X to nearly full capacity in around 15 minutes.
The story behind the story: The Nexus rumor mill is flooding with indications that Google is truly going to make its next Nexus device a super-sized phablet. While there had been talk of a smaller, 5.2-inch screen built for those who don't want to carry about a tablet-sized phone, there hasn't been any substantial leaks on that front. If you had to place a bet, the odds point to Google just going with a plus-sized Nexus 6.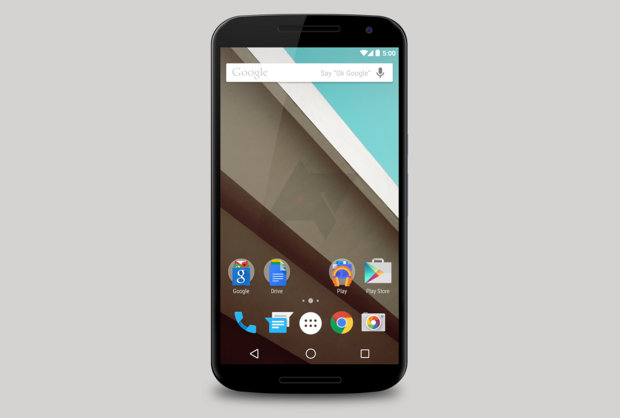 Another Android redesign
The report also mentions that the Nexus 6 includes redesigned icons that look to be part of the "Material Design" makeover baked into the heart of Google's next-gen Android L operating system.  
We're clearly getting close to seeing this phone in real-life given the rising tide of leaks. But a phone with a 6-inch screen will be a mixed bag for Nexus fans, as not everyone is pleased with the idea of a Nexus phablet, especially with the more reasonably sized Nexus 5 getting so long in the tooth. The comments section on the Android Police report is a mixture of joy and misery, often expressed in hilarious GIFs.
If these rumors prove true, Google probably realizes that a new Nexus phone is destined for a niche audience anyway. Despite being beloved by Android aficionados, the Nexus line has never been a huge seller, and there are a slew of compelling options out there for those who want a smaller phone, such as the Play Edition of the 5-inch HTC One M8 and the aforementioned near-stock Moto X.
This story, "The Nexus 6 will be a Motorola-made whale of a phablet, claims most detailed report yet" was originally published by Greenbot.