The HTC One M8 is an excellent phone, but its Achilles' heel is its camera. At only 4 megapixels, the images often lack detail, especially if you crop or zoom in.
HTC may be looking to eliminate that disadvantage. We spotted leaked images showing an identical-looking device rocking a better camera. 
According to GSM Arena, the HTC One M8 Eye has a 13MP shooter while keeping the other internals the same as the still relatively new HTC One (M8). The secondary "depth sensing" camera is still there, too. We may get to see the real thing soon if HTC shows off the phone at an upcoming event in New York to unveil its ReCamera, designed to compete with life cameras like the GoPro.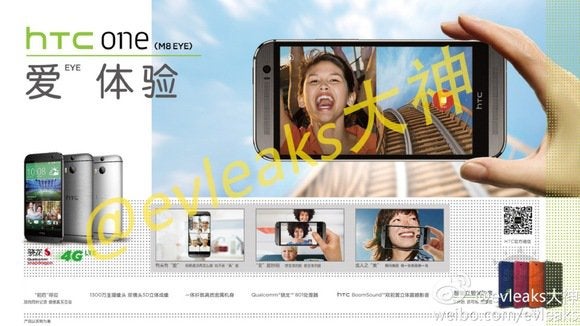 The story behind the story: When reviewing the HTC One in April we felt it was the best Android phone at the time, and it's still one of the best you can buy. The limited camera resolution and iffy low-light performance were sore spots, though. This phone would be a "do over" for HTC, addressing that single sore spot. 
An underperforming camera is a common caveat with Android devices, with the LG G3 offering a rare exception.
Keeping pace with the iPhone
Recent comparisons and reviews point to the iPhone 6 and 6 Plus as offering the best smartphone camera out there. Android phone makers should be worried that customers who want the best smartphone camera would opt for the iPhone over Android.
HTC has the hardware prowess to build a great phone, as it has done so with two generations of the HTC One. If it can combine the stellar hardware with a top-rate camera it would be a very compelling option against Cupertino's flagships.
This story, "HTC One M8 Eye sneaks into the open" was originally published by Greenbot.