There's a clever new app for tinkering with the look of your Android Wear watch face. Face for Wear just left beta, so if unfinished software puts you off, now may be the time to try it out.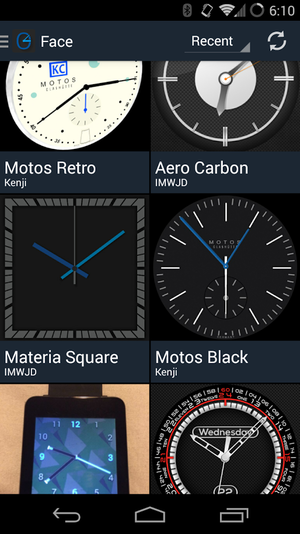 Face for Wear offers several different watch faces built by its community. Many of them look rather good, ranging from sophisticated, trendy designs to sport-themed options. To get the watches, you must download the app to your phone and then select which face you want - it is then pushed to your Android Wear watch.
Even without the beta tag, the developer's Play Store page says the app is a "work in progress," so expects to hit a few bumps when trying it out.
Anyone can register to submit a "facepak" that gets pushed out to the Face for Wear app. It seems like a pretty active community, so expect to see more choices as time goes on.
Why this matters: Google has yet to create an official API for custom watch faces, so developers have taken it into their own hands to get these on the platform. In fact, a company rep explicitly told developers to stop making custom watch faces until Google built the necessary set of developer tools.
Leave it to developers to ignore the rules, with Facer being another popular choice for custom watch faces. Google needs to get that API out soon, as this is clearly a feature Android Wear watch owners want to have.
This story, "Face for Wear exits beta, promises to pretty up your smartwatch" was originally published by Greenbot.