Google Now's march into every corner of your life continues, as it's now dealing out cards for local crime alerts and solar eclipses. 
The crime notifications are a little geographically challenged at the moment, as our editor-in-chief found one in his feed for Lafayette, Calif., despite not living in that city. Given the public safety angle, however, Google has probably built in a pretty wide radius for alerting people to especially nefarious activity like this armed robbery.
The solar eclipse cards are another one of Google Now's attempts to be newsworthy and helpful, as Android Police spotted a card with viewing and photography tips for Thursday's solar eclipse.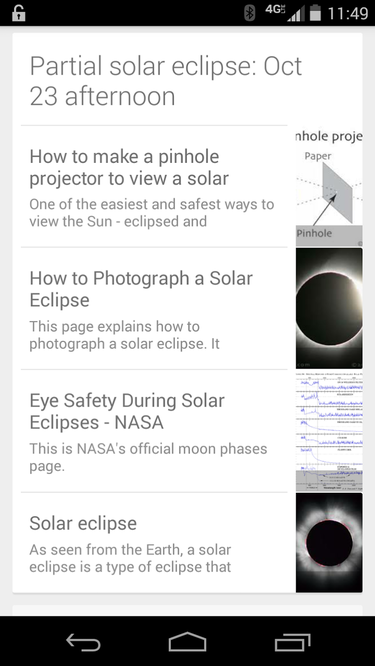 Why this matters: Google Now wants to be the virtual assistant that gives you timely, useful information. It's a pretty good travel guide and sports companion, with new features rolling out all the time.
Google Now's ability to compile data and repackage it in a helpful context lies at the heart of products like Google's newly-unveiled Inbox. It has a considerable lead over other companies in this area, as organizing information is in Google's DNA—and the better it does it, the more you'll keep using its products.
This story, "Google Now gets solar eclipse tips and crime alerts" was originally published by Greenbot.