Google Calendar is becoming a closer companion to Gmail by automatically pulling in events from users' inboxes.
The latest update expands on Gmail's ability to recognize confirmation emails for flight reservations, concert tickets, and restaurant reservations. In addition to showing up in Google Now, these events will also start appearing in Google Calendar. This feature is enabled by default, and users will get a confirmation email the first time it happens. It can be disabled through Google Calendar settings.
The update also adds auto-complete suggestions for new events. For instance, users who start typing the word "Birthday" will see things like "Birthday dinner" or "Birthday party for..." as suggestions. Users can also see suggested contact names and addresses as they type.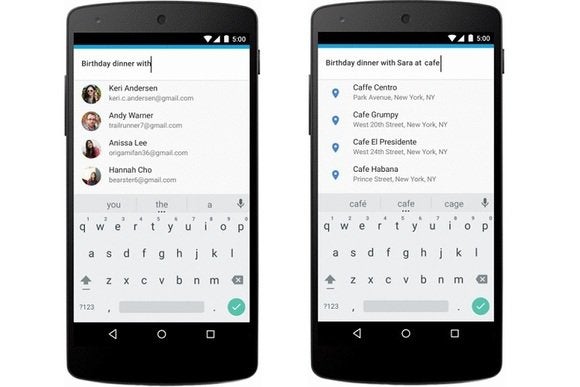 Google is giving its Agenda view a visual overhaul as well. Now known as Schedule view, this list of upcoming events is more aesthetically pleasing with illustrations, location photos, and map previews.
The update is available now for devices running Android 5.0 Lollipop (such as the new Nexus 9 tablet) and will arrive on devices running Android 4.1 Jelly Bean or higher in the coming weeks. Google is also promising to launch a native version of Calendar for the iPhone. That makes sense, as it's the only way iPhone users would be able to enjoy the new features.
Why this matters: It's hard to remember the last time Google Calendar received a substantial feature update like this, but falls in line with the recent launch of Google Inbox. Both are an attempt to build upon the old, baseline experience with things like automated actions and smart suggestions. It's another sign that Google wants all of its services working more closely together, thus making it harder to live without any of them.
This story, "Google Calendar gets smarter with automatic events, iPhone version coming" was originally published by Greenbot.