Google finished off its massive rollout of Material Design app updates by putting the finishing touches on Google Calendar. While its update wasn't as massive as Gmail's, it was also one of those Android apps that has typically received the least attention.
Now we have this newly refined version of Google Calendar with a few new tricks up its sleeve, in addition to its bold new design. We put together a few quick tips for getting up and running with the new app.
Automatically add events from Gmail
Sometimes, your inbox is bursting at the seams with invitations from friends, coworkers, and family. There's always an event to attend for work, or a social gathering to celebrate another birthday, and you just can't keep track of it.
Google Calendar makes this easier on you by automatically creating events based on Gmail messages you receive. If your parents are clamoring for you to come over, for instance, Google will automatically ask you if you want to create an event with some of the details mentioned in the message, like when to meet and at what time. From there, all you have to do is fill in the rest.
To make sure this works, bring out the side menu (the three bars in the upper left), tap Settings, and then tap Events from Gmail. It'll even add your travel reservations from the airlines.
Use Assists to store relevant info about an event
My boyfriend and I like to go to shows, but sometimes we both forget which concerts we've bought tickets to and where they're at. Since we don't do the event thing on Facebook, we just tag each other in our Google Calendar entries to remind one another that there's a show coming up, and the app's new Assists feature helps you fill and store all of that relevant information.
As you create an event and add information to it, Google Calendar will ask you what you're doing, where you're doing it, and who you're doing it with. Locations will also be auto-filled with the actual Google Maps location of where you're going, even if you're just typing in the venue or the name of a restaurant, for instance.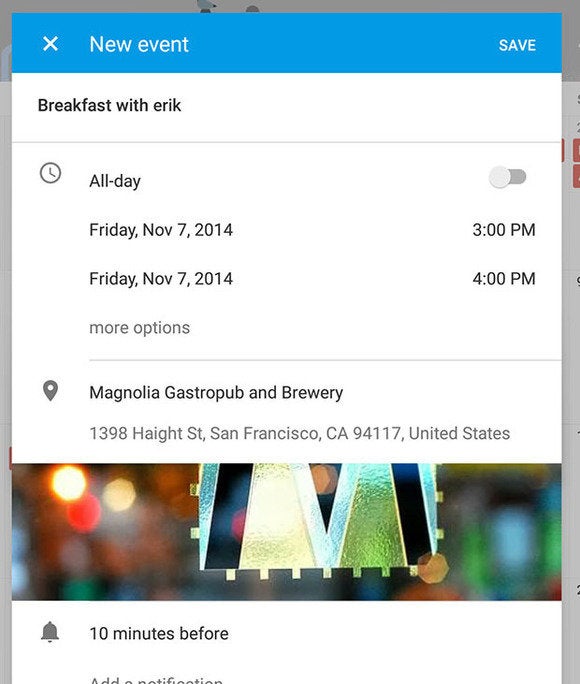 All of this information is then stored into the calendar entry so that you can easily refer to it, and if you're going out with a friend, it'll add them to the event and send them a follow up email so that they don't forget either. 
Show seasonal illustrations (tablet only)
Perhaps the best feature of the new Google Calendar is its adorable seasonal illustrations. By default, these are turned on, but if you enabled the option to Show more events in the General Settings, it'll turn it off.

 When Show more events is off, you'll start to see things like this: 
Choose which day of the week to start on
Not all of us start our week on Sunday—I sure don't. I consider Monday to be the real first day of my week, so I changed that in Google Calendar to reflect it.
To do this yourself, go into the side menu, tap Settings at the bottom, select General at the top, and then tap Start of the week to choose your option.
Choose which holidays you observe
We don't all celebrate the same holidays, and that's the beauty of living in a huge melting pot. But I sometimes I forget all the holidays that my Romanian parents celebrate, which often gets me into trouble with my mother.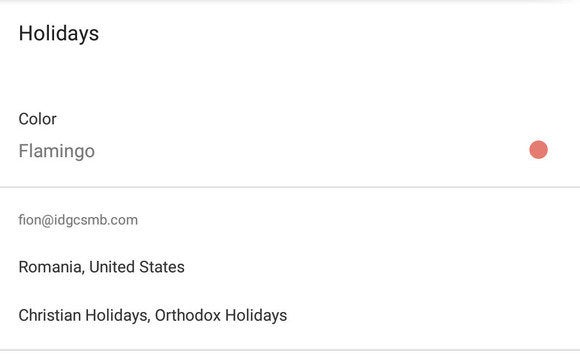 Of course, Google can help with its thorough repository of both country-specific and religious holidays. In the main menu, tap Settings and then Holidays. Tap the name of the country whose holidays you want to be reminded of. You can add religious holidays as well.
This story, " 5 quick tips for getting started with the new Google Calendar app for Android" was originally published by Greenbot.