Phone makers are getting their Android Lollipop (5.0) updates ready, and they're not shy about showing their progress. 
We're getting a look at how some Sony, LG, and Motorola phones are going to look when they get an update to the latest version of Android. It's another good sign that, unlike past rollouts, your handset may be seeing Android 5.0 sooner rather than later (or in some cases, never).
Why this matters: With the latest version of Android, Google gave developers a chance to toy with the new software long before its general release. This should speed up the process of getting Lollipop out to the masses, as companies have had plenty of time to tweak the software to fit their devices, and adjust their apps and interfaces to match.
Screenshots show Moto X running Lollipop
We expect Motorola to crank out Lollipop pretty quickly, given its close ties to former parent company Google and close-to-stock-Android interface.
So it's not too surprising to see a screenshot leak with Lollipop running on  the Moto X. In fact, it looks pretty like a stock Android build, with all the Material Design-inspired cards and shadows fully in tact. The camera interface is still different than Google's, though.
Sony Xperia Z1, Z2, Z3 are ready for developers
Sony is testing the latest developer build of Android Lollipop (you can throw it on your own Nexus 5 or 7) in a video posted to the Sony Xperia YouTube page.
This Android build is aimed at developers, who can get their own hands on this custom build of Android directly from Sony. However, it's another nice preview of what Sony plans to bring to the table.
LG goes Material Design, but keeps its own flavor
The LG-enthusiast site Life's Good blog snagged some screenshots of Lollipop running on a G3.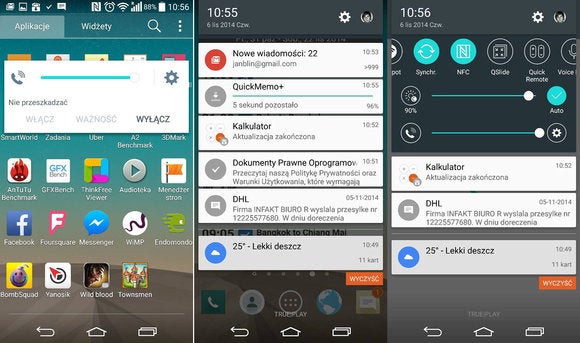 Much like Samsung's TouchWiz, LG's custom interface has a very specific aesthetic, opting for its own apps drawer button and navigation icons instead of Lollipop's back, home, and multi-tasking buttons. The rumor mill says LG's G3 and other phones should see Android 5.0 in early 2015.
This story, "Sony, LG, and Motorola tease Android 5.0 updates in pictures and video" was originally published by Greenbot.