The best laptops of 2017: Ultrabooks, budget PCs, 2-in-1s, and more
Our top picks feature the best tech advances in portable PCs, from new CPUs and GPUs to new materials.

Choosing the best laptop can be difficult these days. With companies like Dell, HP, Acer, and Asus continually launching updates of popular notebooks and expansions of product lines, we're all but swimming in options right now.
Summer has pushed even more convertibles, 2-in-1s, and traditional notebooks onto store shelves. The most interesting ones poke holes in existing assumptions about certain categories. Microsoft's Surface Laptop, for example, is an attempt to revive the company's battle with Chromebooks, while Dell's Inspiron 15 7000 Gaming—our "Best budget gaming laptop" pick—offers 1080p gaming for just $850. Vendors also are serious about squeezing AMD's new CPUs into their lineups, with Asus recently debuting the first Ryzen laptop at Computex.
Given the number of choices out there, we're hard at work evaluating more laptops. For our latest update, we've added "Best MacBook" as a category, in order to better help you compare the full range of laptops available.
Best ultrabook laptop
Dell might be sticking to the adage of "If it ain't broke, don't fix it" when it comes to the XPS 13, but that strategy keeps producing the best ultrabook of the bunch. The Kaby Lake XPS 13 shares the same design as its predecessors: a quality aluminium exterior and carbon-fiber top, and that wonderfully compact, bezel-free 13-inch screen.
Dell actually released two updates to the XPS 13 in 2016: The one at the start of the year swapped in a Skylake CPU, added a USB Type-C port that served as an alternative charging port, and offered upgraded storage options. The most recent refresh—and our new pick for Best Ultrabook—keeps the same chassis changes as the Skylake XPS 13, features a jump to Intel's new Kaby Lake processor, and sports a slightly larger battery. You get improved performance across the board, with a nice bump of an extra half-hour of battery life during video playback.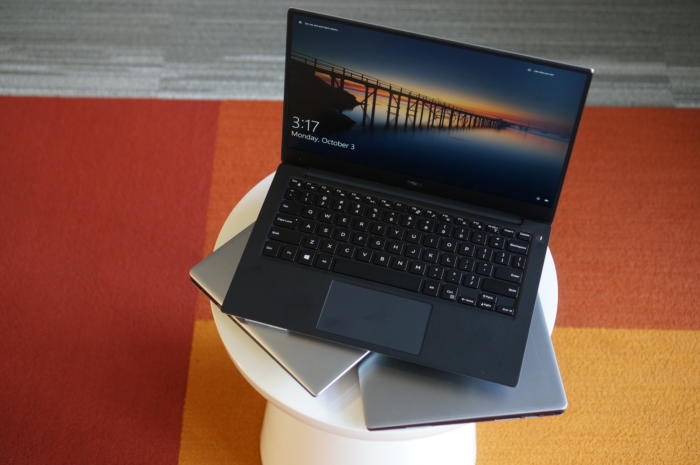 Our only lingering complaint is the small keyboard, but overall, you can't lose with the newest XPS 13. It's a truly compact ultrabook that punches out of its class.
[$800–$2,039 MSRP; $1149 MSRP as reviewed]
Runner-up
If looks are more your thing, the HP Spectre 13.3 certainly has a distinct profile: It's one of the thinnest ultrabooks around. For anyone coveting the streamlined experience of Apple's 12-inch MacBook, this 13-inch notebook will bring you close while providing superior performance.
You might expect such a skinny laptop to sport a lower-wattage Core i3 or i5 processor, but HP fits a 15 watt Core i5 or i7 processor into this Spectre. That puts it on par with other, chunkier top-tier ultrabooks, like the XPS 13. Combined with its 256GB M.2 SSD, it runs smoothly and swiftly during typical office drone work (word processing, spreadsheet editing, web browsing, etc), without any heavy throttling of performance during CPU-intensive tasks. HP also made the ports count: While there are just a few, you get not one but two Thunderbolt 3 ports, as well as a USB-C port.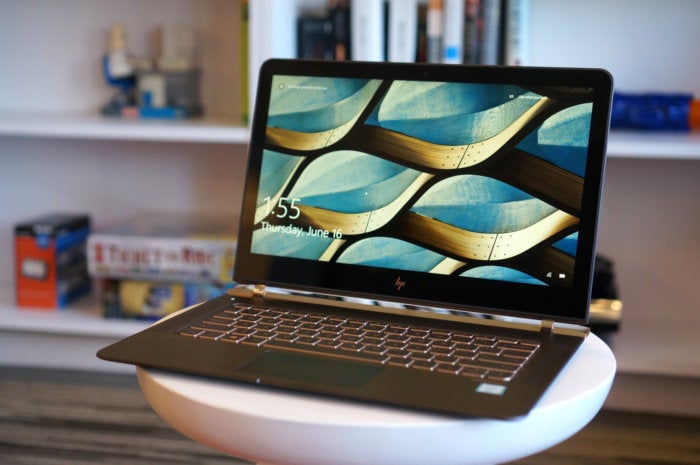 The drawbacks of this modern and sleek notebook are its battery life, which is modest due to its smaller battery, and its wider frame. (The Spectre 13.3's hardware and cooling configuration requires a certain amount of space—HP's engineering is impressive but can't defy the laws of physics.) It's for those reasons that we prefer the Dell XPS 13, but this laptop is still a very fine companion.
[$1,170–$1,250 MSRP; $1,250 MSRP as reviewed]

Best convertible laptop
We liked the first Spectre x360 when it launched back in 2015, but that 2-in-1 laptop had a few flaws. The updated version, which released in October 2016, blew away its predecessor by being smaller, thinner, and noticeably lighter, while still providing excellent performance and battery life. Now there's a 2017 edition that adds active pen support and the option of a 4K screen to the 2016's already-excellent package.
Inside our review model was a Kaby Lake Core i7 processor that kept pace with a quad-core Skylake CPU during tasks like word processing and spreadsheet editing, and handled games like Minecraft and League of Legends at low-resolution and low-quality image settings. If you opt for a FHD (1920x1080) screen, the battery will last almost eleven hours during continual video playback, and just over seven if you go for the beautiful 4K (3840x2160) display. Active pen support rounds out the experience—it's easy to jot clear notes and sketch clean diagrams with the included pen accessory.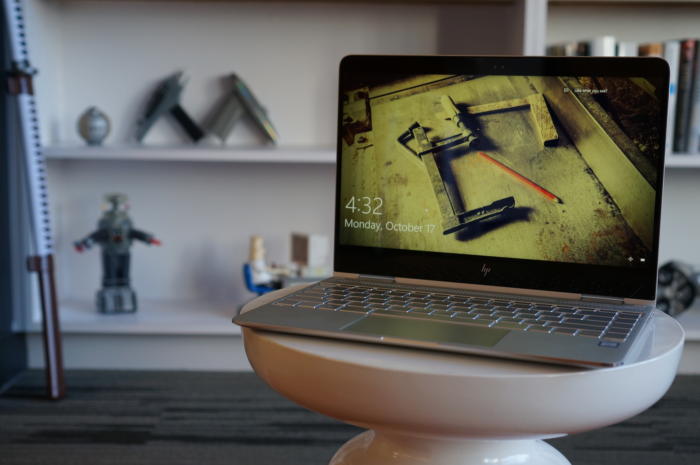 This laptop is so good, it gives our top pick for Best Ultrabook a run for its money. If it weren't for the wide-aspect ratio trackpad, the low number of ports (just three total, and you lose one to charging whenever it's time to top up), and a couple of slight performance dips on the 4K version, it might have won. For now, though, it can rule this convertible category until it's time to challenge the Dell XPS 13 yet again.
[$1,090–$1,600 MSRP; $1,600 MSRP as last reviewed]
Best budget convertible laptop
For years, Asus has offered great value in its notebooks, and the ZenBook Flip is a strong example of its affordable, high-performing offerings. For $700, you get a fully convertible notebook that can handle everyday tasks with ease.
In fact, its pricing and specs are virtually identical to our favorite budget ultrabook, the Asus UX305 (now discontinued). Inside you get a Core m3-6Y30, 8GB of RAM, and a 256GB SSD, and outside there's a 1920x1080 IPS screen with an anti-glare finish.
Yet despite the modest CPU, the Asus ZenBook Flip is fairly peppy. In our benchmarks, it actually outperformed faster (and newer) Core m5 and m7 processors in rival machines during short CPU-intensive tasks. Its storage drive is no slouch, either.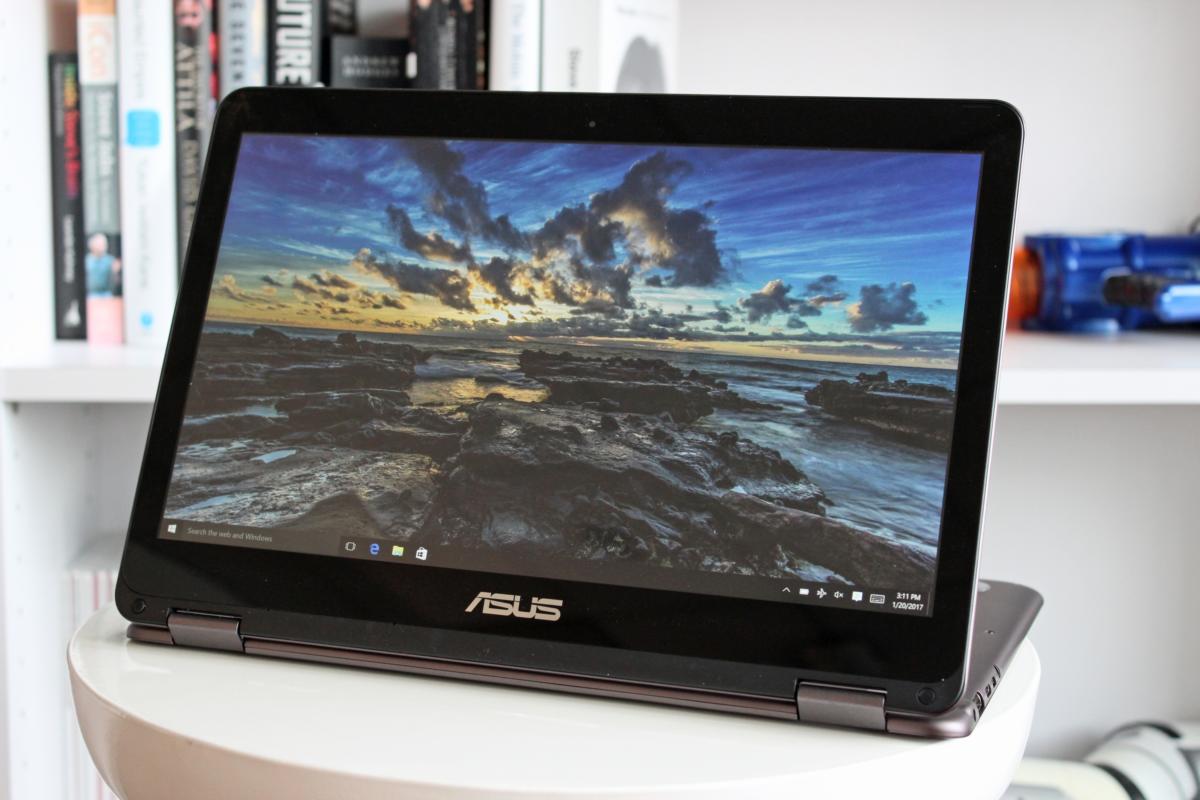 This laptop is slender and lightweight, too. It measures 0.54 inches thick and 2.8 pounds, which keeps it in line with more expensive ultraportables. You're not saddled with chunkier dimensions or extra weight in exchange for a lower price.
A couple of compromises do exist: There's no backlighting on the keyboard, and the trackpad is a tad springy. Still, it's a good deal in a price range that usually nets you thick, ugly, and plastic.
[$699 MSRP (256GB model); $749 MSRP (512GB model) as reviewed]
Best hybrid laptop
That a Surface Pro laptop is the winner of this category shouldn't come as a surprise. After all, Microsoft gave legs to the concept of hybrid tablet/laptop devices (also known as "2-in-1" laptops)—the Surface series is really an evolutionary step beyond the typical "convertible" devices that physically separate from the keyboard to run independently as tablets.
What may be surprising is that our best pick remains the Surface Pro 4, even given the launch of the Surface Pro. (This Apple-style of naming hides the fact that the new Surface tablet is akin to a Surface Pro 5.) However, given the Surface Pro's performance throttling and higher price tag, we think the Surface Pro 4 offers the better mix of value and performance while it's still available.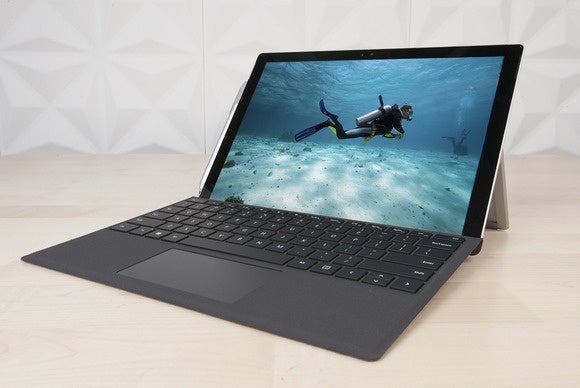 Sure, Surface clones have arisen that are also light yet still very capable, like Lenovo's Miix 700 and HP's Spectre x2. But we like this hybrid tablet better than its cheaper rivals for its top-rated display, great performance, and the fact that its keyboard and trackpad are miles ahead of competing designs.
The only caveat: It's expensive—and the essential keyboard adds $130 to the price. (Nope, it's not included.) That means the midrange Surface Pro 4 with 256GB of storage, 8GB of RAM, and a Core i5 is a $1,430 computer. Ouch. Hopefully, prices will get cut now that the new Surface Pro has arrived.
In any case, if you value portability—it really is laptop performance in a tablet—and will actually use it as a tablet on occasion, you'd be hard-pressed to beat the Surface Pro 4 right now.
[$899-$1,799 MSRP; $1,430 MSRP as reviewed with optional keyboard cover]
Runner-up
Samsung's follow-up to its first 2-in-1 doesn't take any extreme turns off the established path. It's still incredibly thin and lightweight, and it offers an even more stunning AMOLED screen that supports HDR.
But it's still not quite our favorite convertible, and that's partially due to Samsung's decision to sell both a small and a big version of the Galaxy Book. The more affordable, lower-power Core m3 model has a smaller 10.6-inch screen. If you want a 12-inch screen, you'll have to jump to a starting price of $1,130.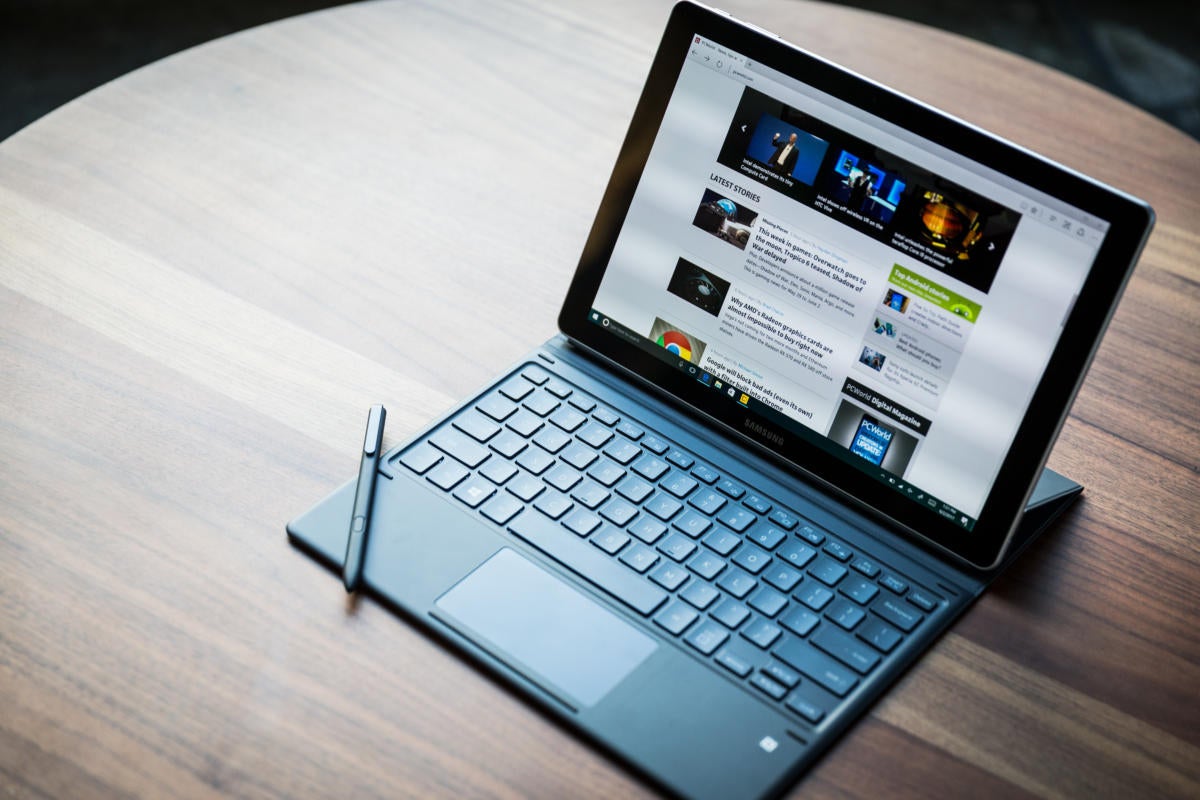 Despite these two tougher choices, the Galaxy Book is still compelling. It offers solid performance (including over 10 hours of video playback on the 12-inch Core i5 model) and addresses some of our complaints with the Galaxy TabPro S. You now get two USB-C ports, and the keyboard secures tightly to the tablet. And of course, it has that gorgeous display.
So while it may no longer have a huge advantage in price, Samsung still manages to hold its own with a few compelling features. Particularly the included pen—Microsoft's equivalent accessory is a $100 optional purchase.
[$630 or $1,130 MSRP base price; $1,300 MSRP as reviewed]
Best gaming laptop
The arrival of Nvidia's Pascal-based mobile GPUs has transformed high-end gaming laptops—for the first time, they're able to give desktops a run for their money. Case in point is MSI's GT73VR Titan, which pairs a GTX 1080 mobile GPU with a 17.3-inch, 1920x1080, 120Hz G-Sync panel. It delivers crazy-smooth, high frame-rate gaming at an unprecedented level: We saw frame rates over 150fps with everything maxed out in our Tomb Raider and Middle-earth: Shadow of Mordor benchmarks.
Other GTX 1080 options exist (and some of them cheaper than our $3,599 GT73VR review unit), but none come as loaded with benchmark-topping technology and run as quietly. Origin's similarly configured EON17-X, for example, blasts like a jet engine, but provides only a very small gain in performance.
This Titan does have a couple of potential drawbacks—the trackpad's buttons, for example, are incredibly stiff and require a lot of force to click—but overall, the GT73VR is one extremely sweet gaming notebook that has what it takes to dominate its class.
[$3,599 MSRP as reviewed]