Google resurrected its long dormant News and Weather app this year, after leaving it untouched since the launch of the Nexus One.
A new update to version 2.2 adds some nice touches, including a dark theme, more detailed weather data, and the ability to search for articles by topic.
The weather card now has larger graphs and a vertical slider for swiping through the forecast for temperature, precipitation, wind, and humidity.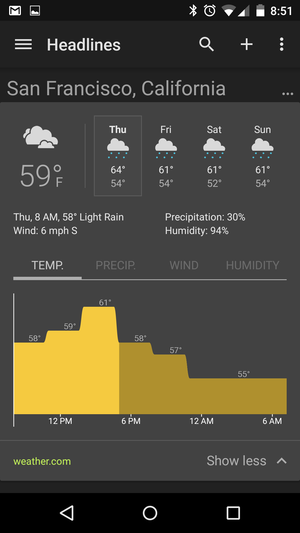 You also now get the slide-out interface that displays your Google+ profile picture and background. From here you can also change and customize news topics to peruse. After you do a search, you can add that term to your personal list.
The Editors' Picks section also adds curated stories from Google's "top publishers," though there are no specifics as to which ones are part of the select club. Typically it's larger, high-traffic publications you're probably familiar with.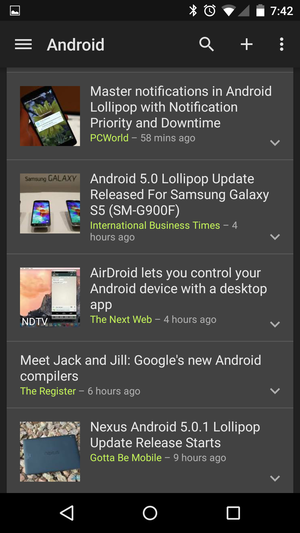 The dark theme looks great, and may especially be useful for low-light reading. The accompanying widget also now gets a dark option, which helps visually separate it if placed by the Google Search bar on the home screen. Unfortunately, these dark themes don't have a lot of true black, opting for dark grays instead. So, while it's easy on the eyes in low light, it might not be a huge battery saver on AMOLED displays.
You can wait for the update to hit your device or grab the APK from Android Police.
Why this matters: The News and Weather widget is a great way to live up your home screen, as it displays the current temperature and a steady feed of headlines. Years ago, it was one of the first differentiators to clue me in to the benefits of Android, as the home screen was more "alive" in comparison to the stale static icons on iOS. It's great that Google brought it back, as it is becoming one of the best ways to stay current with the news and get a quick glance at the weather forecast.
This story, "Google adds slick-looking dark theme to its News and Weather app" was originally published by Greenbot.