A new Android Wear app called Coffee has a clever solution for texting in a crowded room.
Instead of relying solely on voice for text messaging, Coffee presents branching conversation options on common topics. For instance, you can ask your spouse what's for dinner, where you're going to eat or whether you should pick anything up from the store. Or, you can tell a friend that you've arrived or are running a few minutes late.
Coffee actually takes over for the standard text messaging functionality in Android Wear, so you can use it to reply to incoming messages in addition to sending new messages from scratch. It's available free from the Google Play Store.
Why this matters: Android Wear's voice dictation is a powerful feature, but it's not always practical to blurt out your conversation for everyone to hear. And while Android Wear does let you send a few pre-written responses to text messages, the options are limited, and there's no way to initiate a conversation without voice. Coffee lets you send messages more discreetly, so it's a useful tool for any Android Wear owner—even if it could use some more polish.
I love you—and not the people in this room
The app does a decent job of laying out its options in an understandable way. From the main screen, you see a list of favorite contacts that you can set up in the companion smartphone app. Tapping on a contact brings up icons for questions, statements and voice dictation. (There's also a star icon, presumably for shortcut messages that you can add through the companion app, but this repeatedly crashed the watch app on my Moto 360.)
Tapping the question or statement icon leads to several broad topics such as transportation, timing, location, eating, and friendly conversation. The use of icons with no text is a little confusing at first, but easy enough to figure out. Within each of these topics, you'll find a list of possible messages to scroll through. If you see text highlighted in red, you can tap on it to bring up even more options.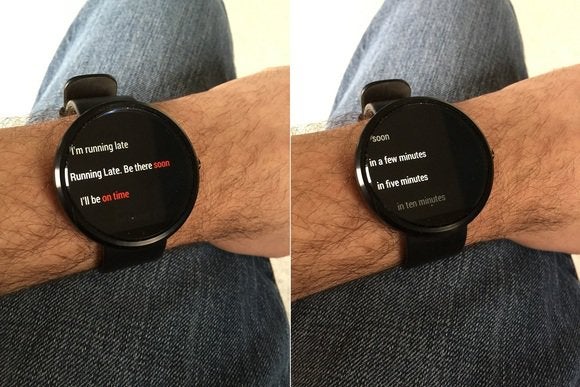 This is where Coffee really stands out. Instead of just sending a generic "I'm running late," you can specify whether you're five, ten, or 20 minutes behind schedule. And if you just want to say "I love you," you can do it quickly and silently without ever taking out your phone.
That said, I did have a couple problems with the app. In addition to the star icon crashes, I wasn't able to launch Coffee by flicking my wrist as advertised. It'd also be nice if the companion app automatically added my starred Google contacts, instead of making me put them in manually.
Overall, though, Coffee seems like a sensible way to deal with text messaging on a smartwatch. It's not going to beat taking out your phone in all cases, but it's a far better solution than fiddling with a shrunken keyboard.
This story, "Hands-on: Coffee for Android Wear lets you text from your wrist without talking" was originally published by Greenbot.