Falcon Pro 3 review: A great-looking Twitter app in need of a few more features
The default Android Twitter app does the job just fine, keeping you abreast of all the news items and quips that come from the the social network's firehose. 
But sometimes you want something a little easier on the eye, and Falcon Pro 3 is a good choice. Third-party Twitter clients have to fight an uphill battle: the social network caps the number of users who can connect with any given third-party Twitter app, impairing one's ability to grow a large user base.
It's been a thorn in the side to Falcon Pro developer Joaquin Verges in the past, as after hitting the limit too many times he gave up on updating the rather excellent Falcon Pro.
The third time's almost the charm
But he's back with another shot, and again it's quite good. Falcon Pro 3 is a complete ground-up remake, with a design that would make Google's Material Design advocates proud. Each of the key sections of Twitter are divided into columns, much as is done with TweetDeck.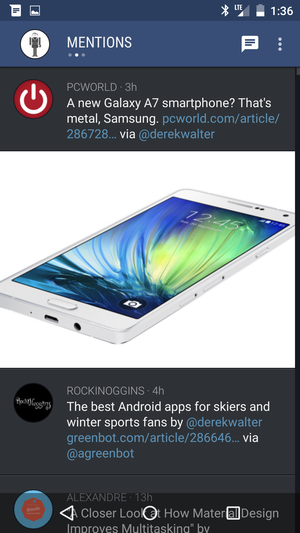 Web links and photos in your timeline also get a nice big eye-opening preview. When you touch one of these tweets it's just one other quick tap to visit the site. Or if it's an image, you get the whole picture filling up the bottom part of the screen. It adds some visual flair to the timeline that breaks up the usual monotony from an unending stream of text.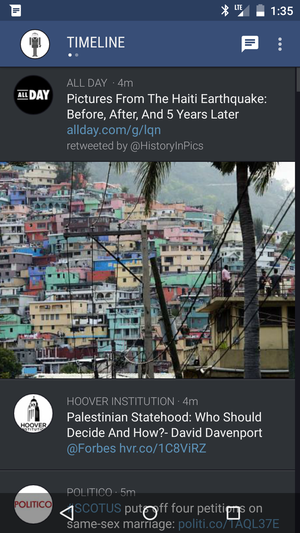 My favorite touch is how easy it is to add a picture to a tweet. Once you tap the new tweet button, you get a horizontal row of images from your most recent pictures. Just touch the one you want and then fire off the tweet.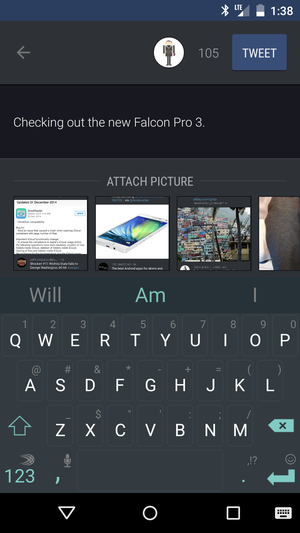 It's pretty easy to pick up how to use Falcon Pro - it's Twitter, just better looking and with the rich colors and easy-to-read font styling you would expect from a Material Design app.
Just as with most of Google's apps, if you swipe to the right there's a profile section with your Twitter profile picture and background image. This is also where you'll see any recent interactions, such as when others retweet you or respond to your tweets. Touch the checkmark button to clear it off.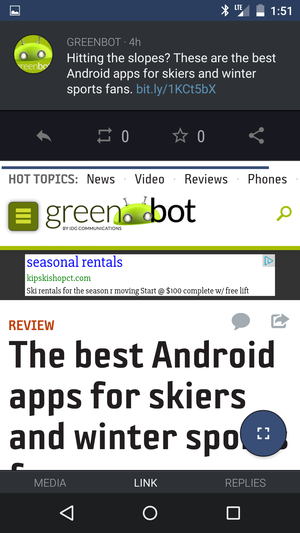 If you want in, though, it'll cost you. Developers have found the best way to stay under the Twitter token limit is to charge. Though the app is free to download if you want to check out the tutorial, it will cost you $4 for the first Twitter account and $2 for each additional one.
Where it needs to go next
The biggest omission right now is the inability to send or respond to direct messages. Verges says that's coming, along with continued feature build-outs to get the app up to speed.  For now, however, that means you'll need to keep the main Twitter app around if DMs are a part of your life. 
The search function, unfortunately, isn't as powerful as the main Twitter app. When you search with Twitter you get autosuggestions, which is useful when you're trying to track down a particular user but aren't quite sure of the name. 
One geeky feature I would like to see is the ability to find out from which Twitter client others are tweeting. Maybe this only appeals to tech writers, but it's interesting to know which is the device and software of choice for public figures, or the occasional celebrity who is sponsored by Samsung but then tweets from an iPhone.
If you're a casual Twitter user then it's probably not worth the purchase for you. If you used one of the earlier versions it may be tempting, if for no other reason than it's great to look at. Otherwise, keep an eye on it. Falcon Pro 3 is only a few updates away from giving you all the tools a hardcore Twitter user needs.

This story, "Falcon Pro 3 review: A great-looking Twitter app in need of a few more features " was originally published by Greenbot.
Shop Tech Products at Amazon