Welcome to Five to Try, our weekly look at the five brand new (or significantly updated) apps and games you ought to scope out on your Android device. This week, we have an app designed to track your phone habits and help keep your digital diversions under control, along with a fresh all-you-can-read magazine subscription option.
If it's games you're after, role-playing die-hards can find the latest port of a classic Dragon Quest campaign, while Adventure Time fans can custom-build their own colorful worlds. You'll also find a free new MOBA game for succinct, yet intense online team showdowns. Clear some space on your home screen: here's what you should download now.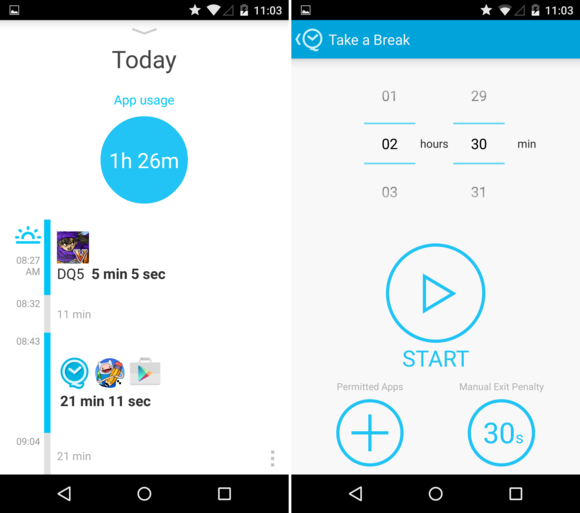 Got an app obsession you aren't even aware of? Sure, you might only play Clash of Clans for a few minutes at a time—but if it's every hour, you might be losing a big portion of your day to mindless diversions. Get on top of your app usage with QualityTime, a new tracker that tallies up where your phone time is going each day.
The free app charts how long you use each individual app daily, and tells you when that's happening. And it can help you curb bad habits, reminding you to take a breather after a set amount of time on Facebook, or a few hours on the phone in general. You can even "Take a Break" and block usage of the phone, aside from any pre-determined safe apps. Everything in moderation, right?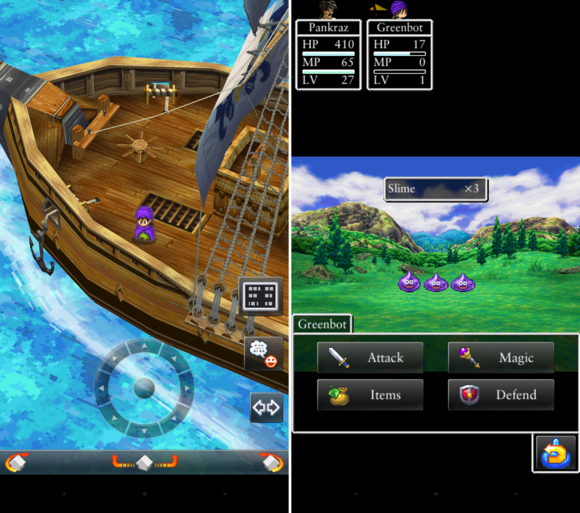 Who knew that Android would become such a powerhouse for old-school role-playing games? Square Enix first ported over the formative early Final Fantasy games, and has spent the past several months bringing over Dragon Quest as well, even optimizing each standalone entry for one-handed play. And Dragon Quest V is among the best of the classic series.
The Android version is based on the 2009 Nintendo DS remake (the first version to reach the States), with a blend of 2D sprites and 3D environments. It's hailed as a more mature tale, of a hero from his birth until he starts his own family—although it's a fantasy quest, so there are still battles to fight and monsters to recruit. The $15 price point is surely ambitious, but if you love classic RPGs, it offers dozens of hours of entertainment.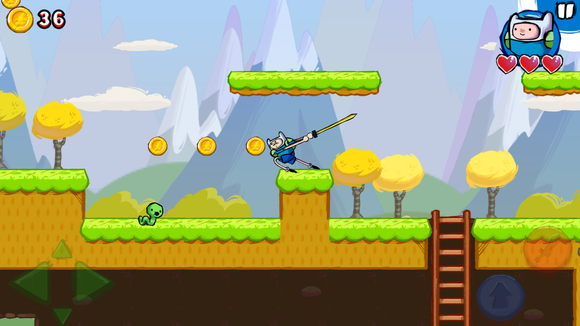 If you love Cartoon Network's Adventure Time, you've got Android gaming options: a competitive card game, endless skiing affair, or colorful spin on Snake, among others. But what if you'd rather make your own games? That's where the new Adventure Time Game Wizard comes in, delivering not only a solid side-scrolling action campaign, but also amusing creation tools in a $5 package.
You can compose your own elaborate game levels from scratch by drawing ledges on the screen and placing coins, enemies, and hazards. Or you can print out the specially marked grids and sketch your designs on paper, using your phone or tablet's camera to transfer the layout into the game. The recognition is a bit finicky, but mishaps are easily amended and kids should love it.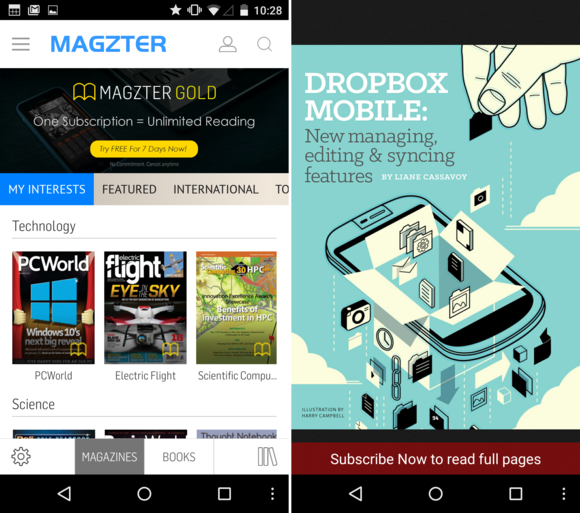 Magzter has been around for a while as an alternative digital magazine storefront, offering up both subscriptions and single issues for various publications. However, this week's launch of the 4.0 update brings a new option for voracious readers: Magzter Gold, which features unlimited access to issues from more than 2,000 worldwide magazines.
Not every magazine Magzter offers is available via Gold, so search the listings before committing to the $10/month fee. However, heavy hitters like ESPN The Magazine, Fast Company, and Maxim are on the list, as well as our great sister mags PCWorld and Macworld. Competitor Next Issue seems to have more headline U.S. publications in its own unlimited plans, however, so be sure to compare and contrast based on what you like to read.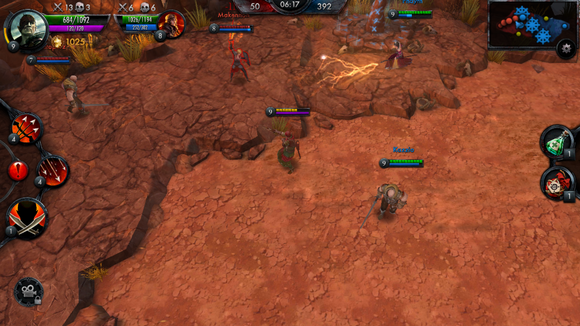 Multiplayer online battle arena (MOBA) games can be done well on touch devices, but the best mobile entries—Vainglory and Fates Forever, in my estimation—still haven't hit Android. However, anyone looking to get a League of Legends-like fix on a phone or tablet might consider The Witcher Battle Arena this week, as it translates the hit role-playing epic into a free multiplayer showdown.
It's an attractive three-on-three tweak on the genre, wherein you'll attempt to maintain control of strategic points on the map while pummeling opponents with spells and special attacks. The Witcher Battle Arena is simpler in scope than genre leaders, but the 10-minutes-or-less matches are ideal for mobile, and the core game isn't burdened with freemium limitations.
The Witcher Battle Arena is free with in-app purchases.
This story, "Five to Try: Limit app obsessions with QualityTime, or start one with Dragon Quest V" was originally published by Greenbot.