I am terrible at getting places, and as a result I constantly rely on Google Maps to help me navigate my surroundings. When it comes to taking public transit, however, Maps isn't always the best app for the job. I sometimes don't know exactly where to wait for a bus, nor when a train is actually scheduled to arrive. And since I'm always in a rush to get somewhere, that is essential information.
So, I downloaded Moovit and Transit to see if they can offer the features that Google Maps can't. Both apps aim to make it easier for you to hop on a bus or take the ferry to your next destination without any hiccups, though they both do so in different ways. Moovit is socially oriented and relies on its community to help suggest better routes, while Transit aggregates the information that's already available from local transit authorities. Regardless, I'm more curious about which of these three applications is the best at getting me home in a bind.
Getting around the city with public transit
I'll start off by stating that I felt confident using either Transit or Moovit to navigate through the San Francisco Bay Area, though both apps have their limitations.
Transit and Moovit both utilize different methods for pointing you to nearby transit. Moovit displays a map with icons indicating transit stops. You then tap each stop to see which bus lines pick up there and when the next one is scheduled to arrive. There are even markers for things like city bike share to let you know how many bikes are left to rent.
Transit's interface is a bit more helpful, especially if you're in a bind. Once you fire up the app, it immediately pinpoints where you are and where the nearest bus lines are. The further down you scroll, the more lines and methods of public transportation you'll see—there's even a handy link to call an Uber if you're absolutely unsure of how to get where you're going.
You can swipe to the left on each individual line to change directions, or tap to see the expanded schedule and its individual stops. You can also easily favorite each of the lines you use the most in Transit by simply tapping the star icons—this is still a bit of a chore in Moovit, though you can bookmark your favorite lines.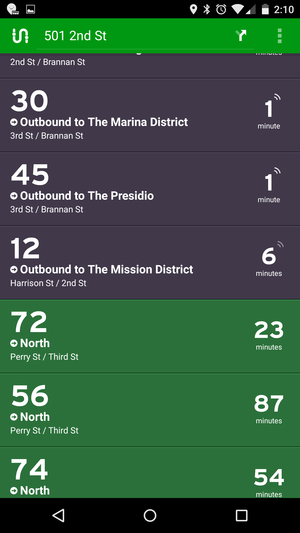 I was impressed with Transit's radius. I didn't have to put in an end address to see where I was going; I could tap on any line to see its route beyond my destination. However, the app seemed geared towards people who know the area that they're in and just need to find the nearest bus stop.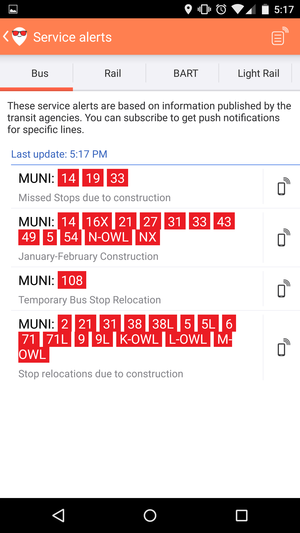 Conversely, Moovit is geared towards those who are new to a city and have no idea how to get around. It offers downloadable maps and frequently updated service alerts. And if you do find a better route than what Moovit offers, you can suggest it to the developers themselves. 
I will say that despite their differences, both Moovit and Transit are good at letting you know the number of stops you have to go and when you should get off. Transit does so with a detailed listing of each stop, while Moovit offers a notification to let you know when you should get off.
Out in the suburbs
I believe that the best way to test out a maps application is to take it out to the suburbs, where public transit isn't a primary form of transportation. Google Maps has always been especially thorough about helping me find my way around all the little houses made of ticky-tacky, even if it resulted in three bus transfers and a mile of walking.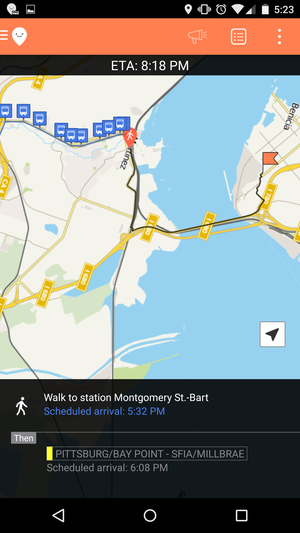 Unfortunately, both Moovit and Transit let me down. Neither app carried the local transit authority's schedule for my area. However, Moovit at least offered me an alternative route home from a nearby suburb, though it required me walking across a bridge.
Transit just stated that no directions could be found from my house to work, though peculiarly it offered me the same directions across the bridge on the way home from the city. Either way, If I were new to the area and didn't have a car to drive I would have been screwed.
Navigation and walking directions
Here's my biggest gripe about Google Maps: if I'm required to walk someplace after emerging from an underground subway, as is typically the case in places like New York City, I have to pull over and re-adjust Google Maps to switch to walking navigation mode. If I don't, I tend to get the directions wrong and walk the wrong way. (Did I mention that I'm really bad at navigating my way around?)
I tested both Moovit and Transit's navigation features on my morning commute in, since I walk about 15 minutes each way from my office to the train station. Moovit's navigation feature was more like Google Maps; the map rotated to let me know the direction I was headed in. Transit, on the other hand, merely offered a directional line to guide me from point A to point B. Needless to say, I preferred Moovit's full-fledged navigation features.
Just Google Map It
I can't ignore the fact that both Transit and Moovit didn't factor my county's transit authority, even if Moovit was a bit smarter about how to get me across that bridge. I imagine that both applications would miss out on these things in other cities. What if you're heading out to the suburbs in a European country, for instance? Wouldn't you want to know how to take the train to see a long lost relative? 
If you live in a major metropolitan area like New York City or San Francisco, both Transit and Moovit are handy. Moovit is great for when you're just trying to figure out how to get your way around a new town, while Transit is a worthy app to have on hand to see when the next bus is scheduled to arrive. But if you're temporarily visiting a new place and you just need to figure out how to take the bus to your next meeting, stick with Google Maps. You may have to "pull over" to check on things from time to time, but Google has been the most reliable and the most thorough about offering directions via transit. 
Updated on February 20, 2015 at 5:00PM PST: 
Transit tweeted that that it's updated its app so that I no longer have to walk across a bridge to get home. Of course, that doesn't mean it has added every little county in the country, but if you have a request you can always reach out to the developers of your third-party app of choice. 
This story, "Transit vs. Moovit: Can either public transit app beat Google Maps? " was originally published by Greenbot.