What if you could automate all the mundane tasks on your smartphone? Now you can with IFTTT's family of Do apps, which include Do Button, Do Camera, and Do Note.
These three free apps are all separate downloads with their own functionality, though they all align with IFTTT's philosophy to simplify the most common tasks on your smartphone. Do Button is the most flexible of the three, while Do Camera exists for automating quick snaps, and Do Note helps make taking notes less arduous. All three work wonderfully in tandem or on their own. 
Before you decide to get started with either of the three apps, we've compiled a helpful listing of recipes you should consider setting up for using with Do Camera, Do Button, and Do Note.
Do Button
Share your location on Facebook
I'm a millennial, and the way my people and I attempt to rally together is by publicly publishing our location on Facebook and hoping others decide to show up. This Do Button recipe makes that easy to do.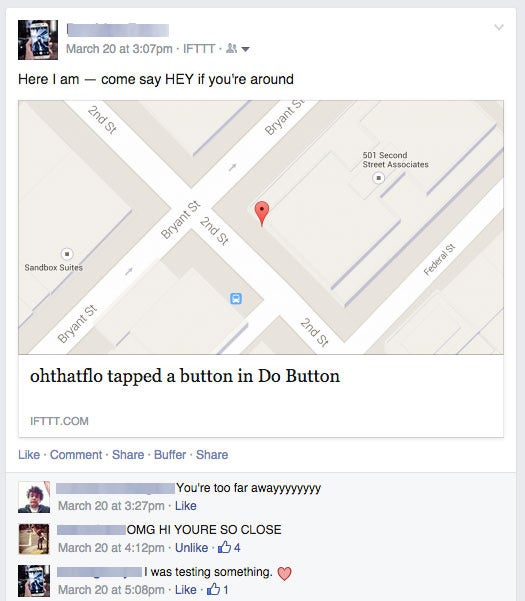 Note that the recipe doesn't actually check you in through Facebook Places, but it does offer a very precise map of your location so that your friends know exactly where to find you. 
Get out of a bad date
This recipe utilizes a nifty service that sends you a phone call when you need to get out of a bind. There are a few caveats with this one, however: you'll have to nonchalantly whip out your phone for this to actually work, and you'll have to turn the volume down so that the other person doesn't hear the creepy robotic voice calling you. 
Let someone know you're on your way home
Transit doesn't run as often after rush hour, so I use this button to email my boyfriend so that he knows that I'm on my way home. This recipe also sends him a map of where I pressed the button so that'll he'll have a rough idea of when to expect me back.
Do Camera
Snap decorating ideas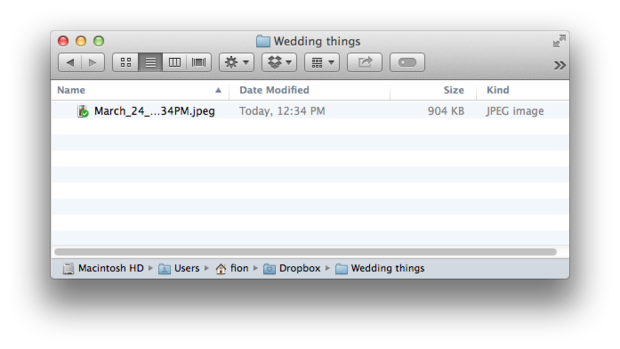 …Or wedding ideas, or ideas for remodeling a bathroom, just to name a few. The recipe is totally customizable. All you have to do is choose a Dropbox folder of your liking and take it from there. Just remember to rename the recipe so that you know what it's for. 
Upload photos to an album on Facebook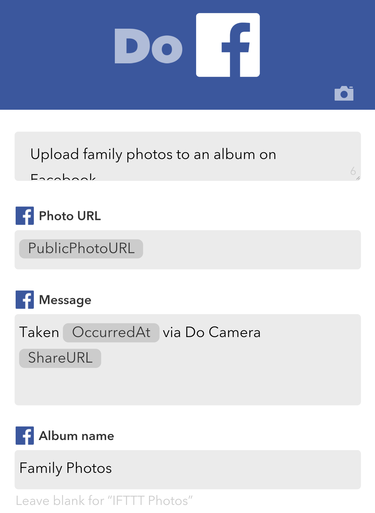 This is a good one if you're going out on a trip somewhere with friends or family. Do Camera lets you customize the caption that appears with each photo and whether the photos are public. 
Email photos to a special someone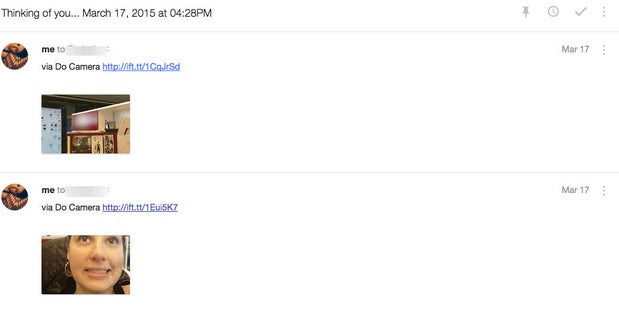 I email my significant other constantly. I send him photos of weird things happening at work, reminders, and selfies throughout the day. This recipe just makes it easier on me, and it files it away to the same thread on Gmail so he always knows where to look for the archives.
Do Note
Quickly create events in Google Calendar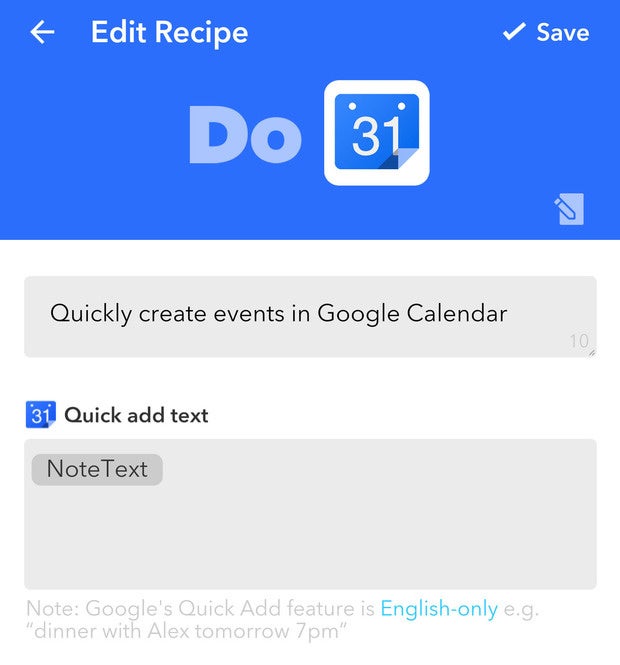 This recipe helps remove some of the hassle of entering an event into Google Calendar. Just enter a description like "Getting coffee with Joan at 3:00 on Thursday" and Google will do the rest for you. The events are created using the same criteria utilized by Google Now. 
Tweet an image of text
Twitter's 140-character limit makes it hard to really get your rant on. But if you tweet an image of text you can mouth off as much as you like! And it's even easier if you've got an IFTTT recipe prepped for it.
Create a shared shopping list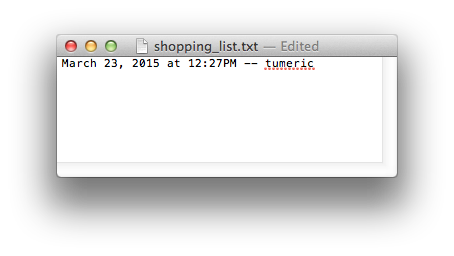 Families are hard to keep coordinated sometimes, but with this little recipe you can keep a running text file of all the groceries your brood needs in your Dropbox.
This story, "9 recipes for getting started with IFTTT's Do apps for Android" was originally published by Greenbot.