T-Mobile's newest coverage map paints a rosier picture of the network's reach, part of its continuing efforts to steal more customers from its rivals.
The T-Mobile blog says it's incorporating "real-time customer usage" into its maps, which it argues gives a more accurate picture of what your experience would be like if you make the leap from Verizon, AT&T, or Sprint.
When you visit the new coverage map there'll be a toggle that indicates if the data is "customer verified." You can turn this off to compare this to the traditional coverage-calculation method. The option disappears in less urban areas.
The map definitely indicates stronger coverage than before, with additional details about indoor connectivity and where you'll get faster speeds.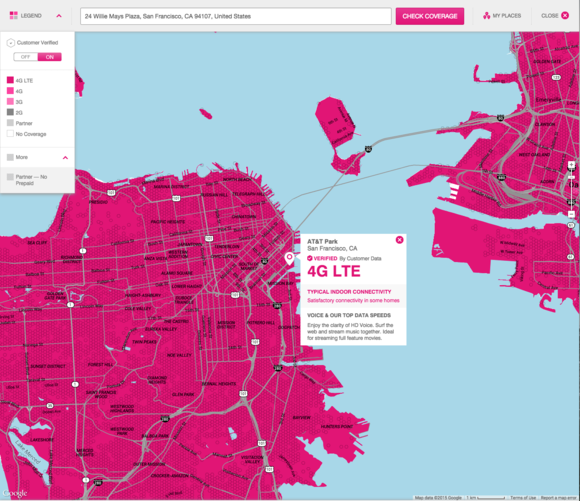 The magenta network says it's tapping in to "customer usage data points" each day to more accurately measure how the network is performing. It's also using third-party data from Inrix, which aggregates large collections of data for various industries. 
T-Mobile also promises to update the data twice monthly. It didn't offer other specifics about how it's collecting such information from customers, only using general terminology like "customer verified."
The story behind the story: T-Mobile's "un-carrier" branding is all about trying to set itself apart from its competitors. Many of the company's innovations have improved the customer experience across the industry, with perks like rollover data and tossing out two-year contracts. 
Though, as this NSFW John Legere supercut reveals, T-Mobile announcements usually comes with a lot of hubris and grandiose promises.
This story, "T-Mobile revamps its coverage maps with 'real-time customer usage' data" was originally published by Greenbot.