Android 5.1 has joined the crowded field of version numbers in the latest Android distribution numbers report.
Google's newest OS revision debuts at a modest .4 percent of all Android devices. It's a small number, but it showed up faster than Lollipop (5.0), which took three months to hit the .1 percent minimum needed to make the chart.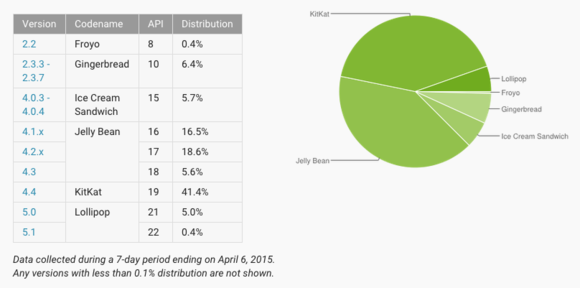 Lollipop 5.0 has creeped up to five percent. We expect that to pick up steam soon, once more devices like the Galaxy S6 and HTC One M9 start getting into owners' hands. 
Also, the Lollipop updates are picking up for flagship devices—you can always check in with us every Friday when we round up all the week's phone, tablet, and wearable updates.
The story behind the story: Google shares this data monthly to give developers an eye for which versions of Android are most common. Google tracks this from devices that check in to the  Play Store.
Lollipop has definitely rolled out much slower than we hoped, but the upside is with so many Google services in the Play Store, fragmentation isn't quite the pain it once was.
This story, "Android Lollipop 5.1 debuts in latest platform distribution numbers" was originally published by Greenbot.