Google Fit is bulking up its feature set with calorie-tracking, your workout history, and a custom watch face.
To get distance and calorie estimation of your activities you'll need to input your gender, height, and weight. You'll then notice more colorful charts that break down your activity for the day.
Your fitness history is now easier to view with a timeline that groups your past activities by days, weeks, and months.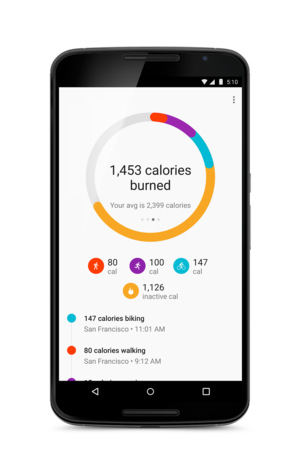 Google also created a widget, which puts the step-tracking circle on your home screen. There's also a new custom watch face for Android Wear, which has a traditional analog look with a small widget that tracks how many minutes you've been active that day. 
You can add it to your Android Wear smartwatch and change the background to one of several colors: black, white, purple, cyan, blue, or gray.
The Google Fit app should update on your device soon. Or you can grab it now from APK Mirror.
Why this matters: Google Fit is designed to serve as the ideal companion for Android Wear and supported apps that focus on health stats. It has lagged a bit compared to the capabilities of other competitors, so this is a good first step in showing that Google is serious about its fitness platform.
This story, "Google Fit now tracks your calories, distance, and throws in a custom watch face" was originally published by Greenbot.