Google is doing more prep work for the impending launch of child-friendly accounts in the Play Store.
An APK teardown by Android Police found more code references to "family-friendly results" and an underage purchase disclaimer in the version 5.6.6 update.
This points to more under-the-hood changes before Google launches its family-friendly app selection, possibly as soon as this week at Google I/O. The code strings indicate a curated search feature that would filter out unsavory apps and games while when children search for titles.
Android developers have already been told to prep apps for the "Designed for Families" section. Google has also dabbled in appealing to children and families with the YouTube Kids app.
The Play Store update also makes some layout tweaks, standardizing how the alert dialog popups perform for actions like leaving a review.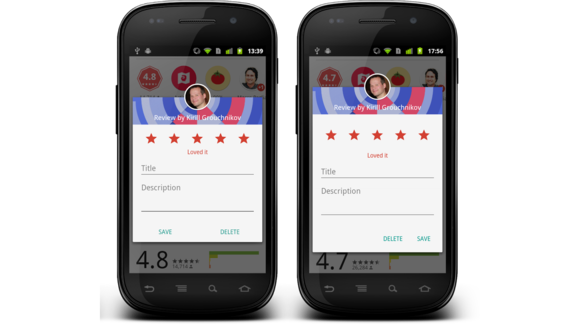 Google's Kirill Grouchnikov posted further details, noting that the new button arrangement and card layout is more consistent with the rest of Android's evolving design vision.
The story behind the story: Google's family-friendly app selection is another effort at winning over parents and families to Android. Just as Google did with YouTube Kids, the company wants to create editions of products that parents will be at ease letting their children use. This effort hasn't completely been smooth sailing, however, with several advocacy groups asking the FTC to target Google for alleged unfair and deceptive advertisements.
This story, "Google Play Store update hints at kids' accounts, makes layout tweaks" was originally published by Greenbot.