Most of us probably don't think too hard about our phone keyboards—so why not try one that does the thinking for you? SwiftKey Neural Alpha leads our weekly roundup of hot new Android apps and games, delivering smarter word suggestions as you type. It's joined this week by Meter, a useful live wallpaper from Google's Creative Lab, along with a two-for-one Adobe pick comprised of Illustrator Draw and Capture CC.
And if it's games you're after, Psych! Outwit Your Friends is the latest Ellen DeGeneres-branded game designed to liven up a party, while NHL SuperCard rolls card collecting, statistics, and fantasy hockey all up into one effective free-to-play package. Make room on your phone and grab some fresh apps and games for the weekend and beyond.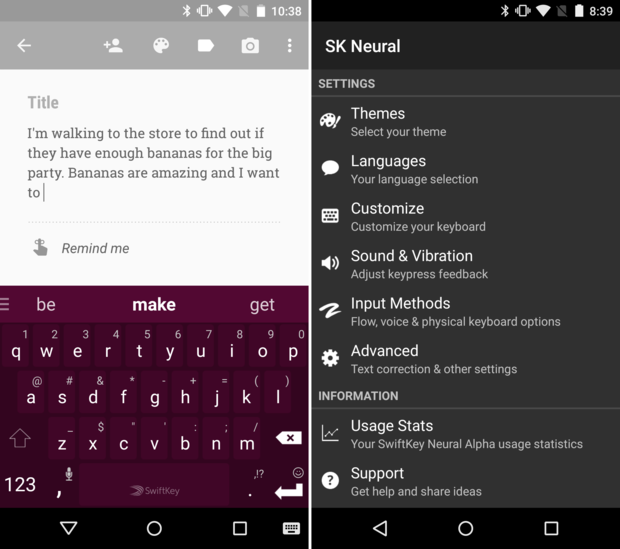 SwiftKey is trying to figure out the next big revolution in mobile typing—but rather than change its flagship keyboard app (for now), the company is launching public experiments. Clarity Keyboard was one promising option, with its ability to pretty accurately correct entire phrases once fully typed, and SwiftKey Neural Alpha is its latest effort. What's new? Well, it uses a human brain-inspired neural network to generate word suggestions.
In short-term use, SwiftKey Neural Alpha doesn't seem dramatically different from the normal SwiftKey, but the next-word suggestions are consistently solid and the corrections are usually on the money. Also, you'll find plenty of customization options, although the default purple scheme is a nice change of pace from black or gray. Neural should show its true benefits over time as it learns from your habits, and don't be surprised if it ends up powering the next generation of SwiftKey.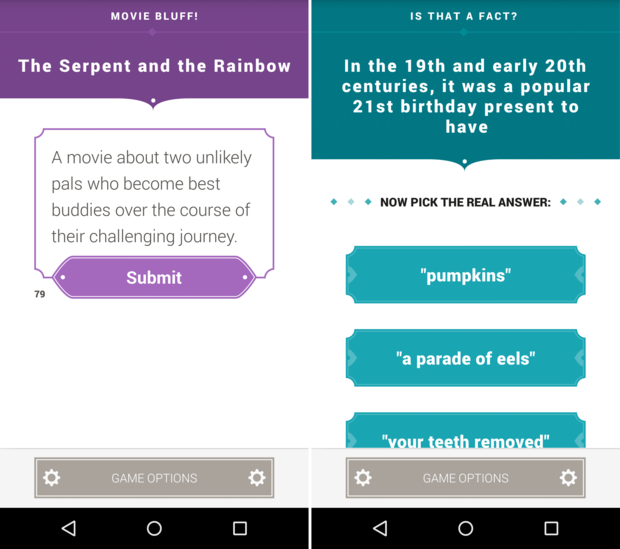 Comedienne and talk show host Ellen DeGeneres became a surprise mobile gaming star with Heads Up!, a charades-like party game that's racked up millions of downloads since 2013. Now she's back with Psych! Outwit Your Friends, another game designed for friends in the same room, albeit with everyone using their own phones.
In Psych!, each person is given the same prompt—a historical question, movie title, etc.—and asked to provide a fake response or description. Those are distributed to everyone, who must each try to pick the correct response from the bunch. You'll score points based on how often you can fake out pals. It's a fun concept, and it works fine across Android and iOS, so (almost) nobody has to be left out. The app is free and comes with a couple categories; you can purchase more within for a buck apiece, plus optionally pay $3 to kill the various ads that appear.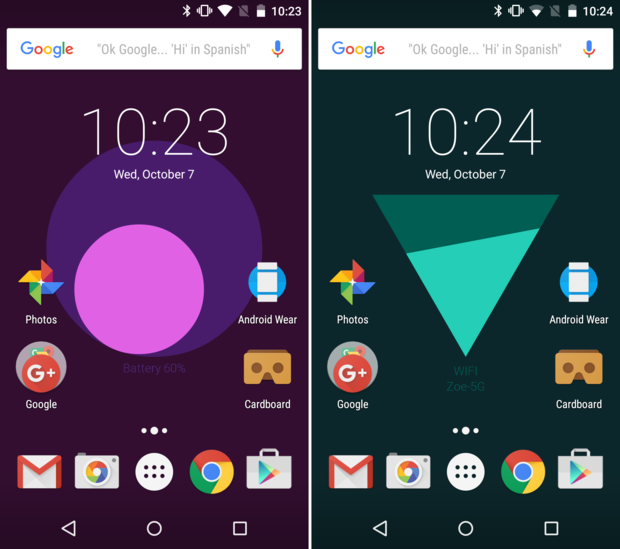 Google launched its Creative Lab onto the Play Store with a trio of apps in August, but they were fun diversions more than really helpful tools. By contrast, Meter has a bit more purpose to it: the free live wallpaper cycles through background icons that help you keep tabs on battery life, network reception, and number of notifications at a glance.
Granted, none of that is particularly essential, given Android's standard, baked-in ways of giving you that information. But it's neat to see battery life represented in a small circle that rolls within a larger one as you move your phone, or level of reception shown as a fiddly water level inside an upside down triangle. It's simplistic and could benefit from some level of customization—but that said, Meter turns useful data into minimalist, attractive artwork.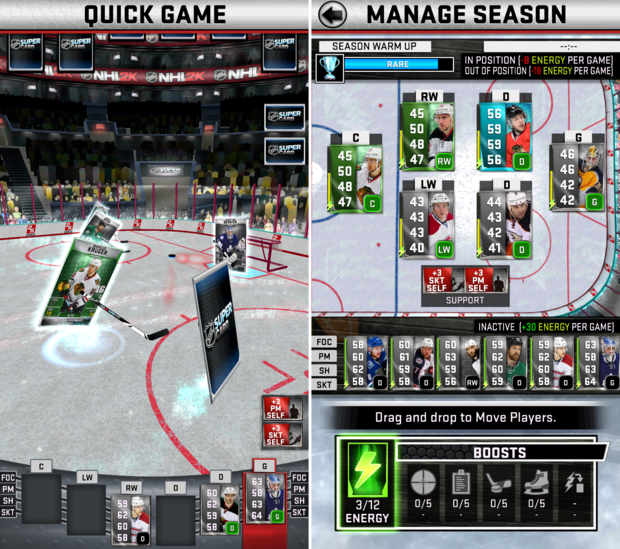 2K Sports already has a proper hockey simulation game on Android with NHL 2K, although it hasn't been updated since last year—but NHL SuperCard is a very different beast. It's also a very weird little game, due in no small part to the fact that the game features playing cards that literally skate around a 3D arena after you choose them. But the core premise here has already proven successful with both MyNBA2K16 and WWE SuperCard. 
NHL SuperCard isn't really for hockey fans who want to play hockey, but more for those who want to obsess over stats and team composition. It's essentially the same concept as FIFA Ultimate Team, as you seek better and better cards to form your team, only their interactions are automated once you choose which player cards fill which roles. It's pretty limited in that respect, but fantasy die-hards might love it.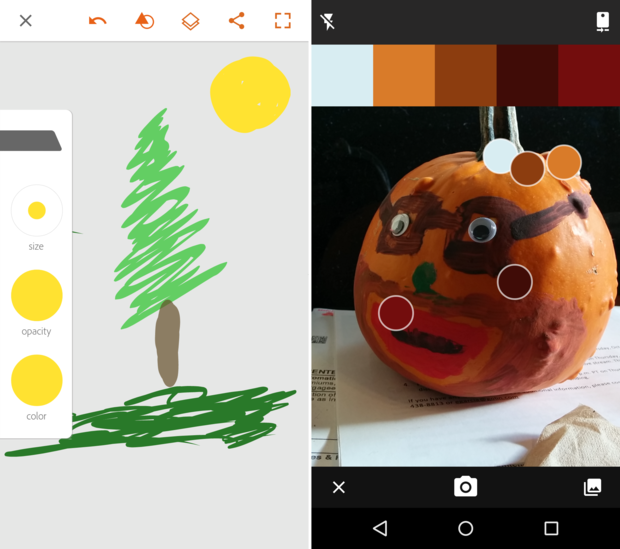 Adobe's Creative Cloud ecosystem expands again on Android this week with a pair of new apps. Illustrator Draw (left) is designed to quickly capture your on-the-go inspiration, letting you sketch out vector drawings and then import them into Illustrator or Photoshop on your PC or Mac. Curiously, it doesn't support tablets, but at least you can zoom in 64x to really nail the little details.
The other new app, Capture CC, might be familiar to Adobe's mobile fans: it's actually an all-in-one compilation of (and replacement for) the Color CC, Shape CC, and Brush CC apps released in June. Essentially, it lets you quickly grab color themes from your surroundings, turn photos into vector graphics, and create Illustrator and Photoshop brushes. Seems like a handy thing for creative folks to keep around, particularly now as one app rather than three.
This story, "Five to Try: SwiftKey's brainy new keyboard, and Psych! might power your next party" was originally published by Greenbot.